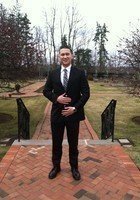 Joseph
Certified Tutor
I am currently a junior at NYU's Stern School of Business. I am pursing a B.S. in Business concentrating in Finance and Economics. I enjoy teaching math classes from Algebra to Calculus 1 and Finance as well. I have tutored students throughout my high school career as well as my collegiate career. Aside from helping students achieve their academic goals, I am an NCAA athlete and practice MMA in my free time. I really enjoy staying active and healthy all while having fun.
Education & Certification
Undergraduate Degree: NYU Stern School of Business - Current Undergrad, Finance/Economics
Test Scores
SAT Writing: 700
Hobbies
Swimming, Hockey, NJ Devils, NY Jets, MMA, Trading
Tutoring Subjects
Business
Business Writing
High School Business
High School Economics
High School English
High School Writing
Macroeconomics
What is your teaching philosophy?
I like to learn what the student already knows and understands first. Then, I can find out which areas the student needs helps with and identify any concepts that may be hard to grasp. After that, I will be able to teach the student the material and help them understand the troubling concept.