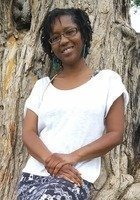 LaMetra
Certified Tutor
I am a mother, an educator, an artist who loves working with children. I am native to Dallas, TX yet, have had many opportunities to travel the world. One stop was Miami Beach, FL where I attended undergrad school in 2001 at Johnson & Wales University receiving a B.S. in Criminal Justice and worked as a Social Worker for two years. After relocating back to Dallas in 2008, I continued my work with children as a Pre-K teacher. Walking through this door of opportunity opened up a new path that I was destined to take. Since then, I have birthed a son, started a homeschool co-op, obtained a M.Ed in Curriculum & Instruction, as well as, worked in local elementary schools as a Campus Director and Instructor for their in-school tutoring program for reading literacy. As you can see, I wear many hats within my career and continue to expand my mission work with children.

I currently work as a 1st grade teacher for the 2017-2018 school year.
Hobbies
I am an Artist I am a novice homesteader I am a gardener/landscaper I enjoy camping and going on road trips with my family I love all things natural!
What is your teaching philosophy?
"He who learns, teaches." ~ Ethiopian proverb.\ Holistic education lies at the foundation of my teaching philosophy. Throughout my years of experience, I have come to learn that teaching the child is the truest way of educating. Holistic education is based on the premise that each person finds identity, meaning, and purpose in life through connections to the community, to the natural world, and to spiritual values such as compassion and peace. Holistic education aims to call forth from people an intrinsic reverence for life and a passionate love of learning. In relation to academics, all subject matters are interconnected, and should be taught as such. You can not have math without language or reading, science without math, etc., and art encompasses them all. We are math, science, language, and art! How fascinating it that!
What might you do in a typical first session with a student?
Getting to know a student and his/her style of learning is very important. Therefore, in a typical first session with a student, I would break the ice with a 'getting to know you' activity or music (the universal language). I would find out their likes and some of their experiences to better gauge my approach.
How can you help a student become an independent learner?
I help a student become an independent learner through motivation, communication, and feedback. I also utilize opportunities for self-monitoring, questioning as scaffolding to independent learning, setting learning goals, including the student in the lesson planning process, encouraging the student to be reflective, and modeling this behavior for implementation. These are effective strategies that encourage the student to take responsibility of his/her learning, as well as build persistence and problem-solving skills.
If a student has difficulty learning a skill or concept, what would you do?
I incorporate the Modeling Strategy: I do, we do, you do. This is also a gradual release of responsibility from tutor to student. The "I do" encompasses direct instruction from the tutor, who models instruction for the student. The "we do" includes prompting the student with guided instruction from the tutor. The "you do" part is all about student practice through working independently.
How do you help students who are struggling with reading comprehension?
To assist students with reading comprehension I utilize a three-part framework: before reading, during reading, and after reading.\ Before Reading: Here I work to motivate students through activities that may increase their interest (book talks, dramatic readings, or displays of art related to the text), making the text relevant to students in some way. I also aim to activate students' background knowledge by discussing what students will read, as well as what they already know about its topic and about the text organization.\ During Reading: I like to remind students to use comprehension strategies as they read, and to monitor their understanding. I am also sure to ask questions that keep students on track, and focus their attention on main ideas and important points in the text. I also have the students focus attention on parts in a text that require them to make inferences. It is also important to ask students to summarize key sections or events, and to encourage students to return to any predictions they have made before reading to see if they are confirmed by the text.\ After Reading: Here I guide discussion of the reading, and ask students to recall and tell in their own words important parts of the text. Additional procedures include retelling the text, story maps, and reciprocal teaching (dialogue between tutor and student).
How would you help a student get excited/engaged with a subject that they are struggling in?
To engage a student in a subject I find out their interests, and then center the related lesson around that. I also allow students to assist in the lesson planning. This gives them a sense of responsibility, a voice, and engages them in their learning process.
What techniques would you use to be sure that a student understands the material?
The modeling technique (I do, we do, you do) is the most effective method. However, different learning styles call for different measures. It is important to note that many students learn well from a blend of learning styles.
How do you build a student's confidence in a subject?
To build a student's confidence in a subject I use an assortment of techniques. I motivate them to try and keep practicing, praise their efforts, acknowledge accomplishments, give them positive affirmations, and help them develop intrinsic motivation.
How do you evaluate a student's needs?
To evaluate a student's needs I use assessments, observations, and anecdotal notes.
How do you adapt your tutoring to the student's needs?
I adapt to students' needs through assessments, observations, and dialogue.
What types of materials do you typically use during a tutoring session?
The types of materials I typically use during a tutoring session are visual aids that pertain to the subject matter, manipulatives for engaging activities, books for reading and research, myself for demonstration and modeling, and additional necessary items.
What strategies have you found to be most successful when you start to work with a student?
The strategies I have found to be most successful when I start to work with a student consist of six factors. These include creating a climate that supports learning, inciting engagement and investment in learning, utilizing dialogue and sharing, helping boost a student's knowledge of the discipline, encouraging creative choices, and utilizing frequent assessments.