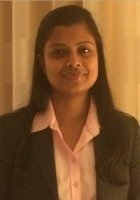 Kaushambi
Certified Tutor
I am a doctoral student in Neuroscience from State University of New York. I have completed my Bachelors and Masters in Biology. I love teaching because that is a way to share my knowledge and at the same time learn a lot of new things. I have experience in teaching elementary, middle high school and college students. I find it challenging to generate new techniques to teach a topic that the student finds difficult. I prefer to teach through real life examples and projects rather than lecturing. I also like swimming and dancing.
Education & Certification
Undergraduate Degree: University of Calcutta - Bachelors, Zoology
Graduate Degree: SUNY College of Optometry - PHD, Neuroscience
Tutoring Subjects
Cell Biology
College Biology
College Math
Endocrinology
Graduate Level Biology
High School Biology
Histology
Immunology
Life Sciences
Medicine
Zoology
How would you help a student stay motivated?
A student who is, for example, not interested in Math will be given problems modified according to his hobbies e.g. sports, music, etc. At the same time encouraging the student will help him stay motivated.