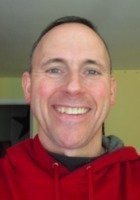 Michael
Certified Tutor
I was born & raised in Philadelphia. I graduated with a B.S. degree in Kinesiology from West Chester University. I currently reside in Springfield (Delaware County) with my wife &and 2 children. I have a passion in working with children as evidenced in my community involvement as a Head Coach. I have coached basketball, soccer & and softball thru the Springfield Athletic Association. My interests include reading, history and sports.
Hobbies
Reading, History, Coaching & Sports
Tutoring Subjects
Elementary School Reading
Middle School Reading
Middle School Reading Comprehension
Other
Spelling Bee
Study Skills
Study Skills and Organization
What is your teaching philosophy?
I stress to children being consistent in their study habits. Also, it's important to ask as many questions as possible in classroom settings. Any question is a good question, which will benefit the child's academic success. When teaching, I like to break down subjects into smaller components that are easier for children to comprehend.
What might you do in a typical first session with a student?
I would tell them who I am, where I came from, my education, my professional experience, and my interests. I would then ask both child and their guardian what their goals are in achieving success with tutoring.
How can you help a student become an independent learner?
By teaching them to be consistent and hard-working in their study habits.
How would you help a student stay motivated?
Being positive and providing words of encouragement.
If a student has difficulty learning a skill or concept, what would you do?
I would emphasize repetition of those concepts and provide insight on what they can do better.
How do you help students who are struggling with reading comprehension?
Break down each word via pronunciation and syllables.
What strategies have you found to be most successful when you start to work with a student?
Make them feel at ease, but encourage them to be motivated to learn.
How would you help a student get excited/engaged with a subject that they are struggling in?
Break the subject down into smaller parts, and identify what positives (if any) they like about it.
What techniques would you use to be sure that a student understands the material?
Ask them to show their study habits, and then intervene if improvement is needed.
How do you build a student's confidence in a subject?
Repetition, passion, and encouragement to learn.
How do you evaluate a student's needs?
Asking them to self-evaluate and identify their strengths and weaknesses.
How do you adapt your tutoring to the student's needs?
It's dependent on their personality and willingness to learn.
What types of materials do you typically use during a tutoring session?
I use flash cards, online sites, and study guides.