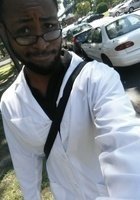 Malik
Certified Tutor
Education is the corner stone to success and a life where you can obtain a career that doesn't feel like work. My name is Malik Laidlaw and from my beginning stages of school I vowed to pursue the life of an educator because I knew from an early age that a student can only become as good as the teacher motivates them to be. I stand for understanding, simply because you wouldn't leave an artist to paint if the artist didn't understand the purpose of a brush.
Test Scores
SAT Composite (1600 scale): 1020
Hobbies
Art, Dance, Reading and Science fiction
Tutoring Subjects
Elementary School Math
Elementary School Reading
Elementary School Science
Elementary School Writing
High School Biology
High School English
Middle School Reading
Middle School Reading Comprehension
Middle School Science
What is your teaching philosophy?
A student is a reflection of the teacher; a confused student derives from a teacher who didn't take time to instill understanding. I want to make sure my students don't have trouble understanding or fear asking for extra help.
What might you do in a typical first session with a student?
It is always good to talk to students and to get to know them as an individual in order to assess how to approach them in an educational setting.
How can you help a student become an independent learner?
I am always there to help, but I like to have students attempt to learn on their own by reading on and creating questions, summaries or bullet points or with sample problems (math), and then clarifying or interpreting what they do not understand.
How would you help a student stay motivated?
Praise them when they are right. Everyone enjoys praise for a job well done.
If a student has difficulty learning a skill or concept, what would you do?
Aside from a new approach, I look to peers or other education figures to see if they can clarify what I cannot. It's okay to ask for help even when you are the help.
How do you help students who are struggling with reading comprehension?
Activities regarding pronunciation are always a good fallback, but it's always best to take it slow. We'll get through the passage together.
What strategies have you found to be most successful when you start to work with a student?
I find that allowing the student to express what idea he or she has of the topic faced helps me understand how far along or behind they may be. An explanation alone proves understanding of something, therefore I piggyback off what the student already knows.
How would you help a student get excited/engaged with a subject that they are struggling in?
Depending on the subject, it's great to entice with fun facts relating to the topic. Give a student something interesting and it creates the questions that aid in desire to learn about how the subject ties together with those fun facts.
What techniques would you use to be sure that a student understands the material?
Explanation is always top, because if you can find your own way to approach a problem and relay the information for someone else to understand, it shows much improvement; creative problems and visual aids allowing real-world situations to stimulate a good ol' fashioned "brain blast."
How do you build a student's confidence in a subject?
Encouragement when they show understanding, and continuously supporting them through the problem, has shown to help siblings and family members that I once tutored. Praising someone as a reward for effort further motivates the student to keep trying their best.
How do you evaluate a student's needs?
Through conversation. Not all sessions require book/problems/assessments, but it is easier to determine anyone's strengths and weaknesses through how they respond regarding the subject. Small assessments do play their role, but only after I as a tutor find my client's strong skill points and points of improvement.
How do you adapt your tutoring to the student's needs?
Patience. Not every student can grasp information as quick as they learn it, but with patience and communication, I can find more tangible and effective methods that could potentially fit the student's way of learning.
What types of materials do you typically use during a tutoring session?
I like to have referable sources, because sometimes I have to find a different approach to ensuring a student understands the materials. If a student has trouble understanding word problems, like math, I like to illustrate the problem since art is a personal hobby that has helped me figure out many problems.