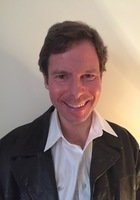 Kai
Certified Tutor
ENDORSEMENTS
"After a large break between my bachelor's degree and starting graduate school, I needed assistance with Associated Press writing. Kai helped me tremendously with my writing style. In a few short weeks, my confidence in writing increased, my grades improved and my studying stress was reduced. In the fall of 2016, I received my Syracuse University Master's Degree in Information Systems Management. Thanks to Kai, I was able to do well in school and complete my long time goal of finishing my master's degree program."
-Lt. Col. Luis E. Delgado, U.S. Army

"As an MBA student at the University of the Potomac online, I was initially missing many deadlines and had fallen behind, but with Kai's aid, I curried favor with my professors and soared to a 4.0 grade point average."
- Sgt. Renee Warren, U.S. Army, retired

"Thank you for EVERYTHING, Kai!! Derek really enjoyed working with you. You were instrumental in helping him survive this tough year in English and in giving him the skills and the confidence he needed to succeed on the AP History test. We really appreciate all of your hard work, time and attention."
- Dawn Jacobs, mother of Derek

ABOUT ME
My own written and verbal communication has been honed by training in English Language and Literature at the top-ranked University of Virginia, in European law, conflict resolution and business cum laude via Belgium's world-renowned Katholieke Universiteit Leuven, in journalism at Northwestern's distinguished Medill School, and after 16 years in the tutoring field; I teach energetically to spur excitement from students while always seeking to induce wise, independent insight.

I possess the credentials and the experience you are seeking, and in fact have been educating high-school and university English across varied subjects using different methods to students from myriad cultural backgrounds in the Washington, D.C. area and abroad; overall, I have consistently facilitated success for various veterans at universities such as Georgetown and Maryland in writing fluid documents after sundry deployments abroad as those budding scholars have striven ardently to re-integrate into American society. In business contexts, I teach grammatically-correct clarity in speaking and writing, including accent reduction, and maintain a particular knack for instructing argumentation; I have tutored executives at elevator and paper companies in Austria and through a major bank in the D.C. area.


One expos from an international column I started at Hosting Tech Magazine was used by a German company as online promotional material for 11 years, far outlasting the publication.


Education & Certification
Undergraduate Degree: University of Virginia-Main Campus - Bachelor in Arts, English
Graduate Degree: KU Leuven 35 globally - Masters, European Studies, cum laude
Tutoring Subjects
College Application Essays
College English
High School Writing
Other