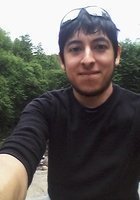 Gerardo
Certified Tutor
Teaching and tutoring has been an important part of my life for many years now. Since high school, I have volunteered to teach a wide range of subjects to students of all ages. In doing so, I've learned to step into the shoes of my students in order to help them master their material. I've also been able to step outside my own comfort zone, performing in a rock band and joining a salsa dance club. I'm positive that I can use my knowledge and experiences to help students excel!
Test Scores
ACT English: 31
SAT Composite (1600 scale): 1500
SAT Verbal: 760
SAT Writing: 710
Hobbies
Music, dancing, cards games, cats
What is your teaching philosophy?
I recognize that every person learns things differently. As such, I try to view material from different perspectives when teaching different students. Even challenging concepts become easier to understand with the right point of view.
What might you do in a typical first session with a student?
I will usually start off by guiding the student through any questions they have on hand. All the while, I try to note if there are any core concepts we should review to improve their understanding of the material.
How can you help a student become an independent learner?
Besides helping my students master the material, I try to encourage organization and good study habits. For example, I suggest keeping all notes and assignments for each subject in its own notebook, so that they can be easily found. I have also found that retaking notes helps students better organize their thoughts and learn the concepts.