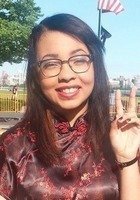 Erica
Certified Tutor
I'll be graduating next spring from Pace University with a B.S. in Biology and a minor in East Asian Studies, concentration in Japanese language and culture. I've traveled all over the world, studying in Tokyo, living in Switzerland and Costa Rica. Not only do I have a love for Biology, but a love for every science. I hope to start a Masters of Science abroad in the following fall. Humans are so lucky to have a capacity for reason, so we can explore the infinite content of the universe. I love to draw out that love for learning in students, even ones who seem to feel discouraged or insecure in their lack of understanding. All people have a capacity to learn everything from classical composition to theoretical physics. It's only a matter of perseverance and teamwork between tutors and students.
Hobbies
Jazz Guitar, Circuitry, Composition, Philosophy, Fine Art, Film, Language (Japanese), Japanese Culture
Tutoring Subjects
ASVAB Prep
College Biology
High School Biology
Homework Support
Life Sciences
Other
Summer
What is your teaching philosophy?
Everyone in the world is capable of learning anything. All it takes is a teacher and student getting to know each other and figuring out the best way to gain full and well-rounded understanding. By achieving complete comprehension of subjects, students are far more prepared to take on future challenges in any subject.
What might you do in a typical first session with a student?
Get to know each other! Let's talk about what the difficult subjects are. Let's not just say "Algebra is difficult" or "I don't know what an inverse function is" - let's get to the root of our issues: "I don't fully understand what the letter 'x' means," for example. A solid foundation is the key to learning.
How can you help a student become an independent learner?
Work on problem-solving skills! The ability to self-teach is a lifelong treasure. For example, finding analogies between problems that a student knows and doesn't know, figuring out how to ask questions, etc. Independent learning is something to hone in itself!
How would you help a student stay motivated?
Give constant positive reinforcement. Students get discouraged and unmotivated because humans naturally don't like to do things they don't think they are good at. It's all about valuing the progress we do get, rather than getting frustrated over the progress we haven't gotten yet.
If a student has difficulty learning a skill or concept, what would you do?
Don't overcomplicate. If the student has gotten to this certain point, it means they definitely already have the foundation needed to tackle this concept. It's time to step back, and analyze. Let's communicate what we know, and what we don't know, break it into parts, and think about it in dozens of different ways until we get it.
How do you help students who are struggling with reading comprehension?
Read together at first, have them read it to themselves, read the question multiple times, and WRITE DOWN the information we are getting word-by-word throughout the problem.
What strategies have you found to be most successful when you start to work with a student?
Talk with the student rather than talk at them. Lecturing is a waste of time - the student has already sat through numerous classes. Tutoring is about working together and realizing the key is within the student. It's a matter of the tutor bringing out their full potential.
How would you help a student get excited/engaged with a subject that they are struggling in?
Make them realize they know a LOT more about the subject than they thought they did at first. Confidence always helps lead to perseverance.
What techniques would you use to be sure that a student understands the material?
Have the student explain the concepts to me. They should be able to explain it three-dimensionally and confidently. The parts they can't fully elaborate on mean they need a little more work.
How do you build a student's confidence in a subject?
Lots of practice with the subject. Give lots of simple problems first to make the student feel confident in their repetition of successful answers, then move on to more difficult problems.
How do you evaluate a student's needs?
Talk to them, rather than their parents or what their teacher says. A teacher would say "You don't understand factorials" and a parent would say "He doesn't study enough," but only the student could say "I don't know how to do the questions with all these different letters."
How do you adapt your tutoring to the student's needs?
Some people are "slower" learners because they overthink and overcomplicate things. Some people are "faster" learners because they can regurgitate information or find patterns between problems. Both behaviors are strengths and weaknesses sometimes. You have to get to know the student's way of thinking.
What types of materials do you typically use during a tutoring session?
The student's homework/previous tests.