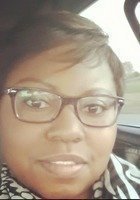 Christina
Certified Tutor
My name is Christina Chandler and I love working with and tutoring students because it really gives me a chance to see and celebrate their successes up close. I mean that's why we become teachers! I love the opportunity to see those light bulbs moments. Being a technology teacher I don't always get to practice some of those other wonderful content areas we have to work on in college, such as English and History. Tutoring give me an opportunity to get back in touch with subjects. I have had the opportunity to work one on one with several students as a homebound instructor. In addition I have a reading endorsement. I used to teach illiterate adults how to read and I have seen the devastating effects of not being able to read as an adult. So making sure kids master fundamental reading skills at a young age is very important to me. I love teaching and I am excited about the possibility of being able to work with students and lead them to additional academic successes!
Education & Certification
Undergraduate Degree: Graceland Univerisity - Bachelors, Elementary Education
Graduate Degree: University of Central Missouri - Current Grad Student, Career and Technical Education
Hobbies
I like to roller skate and write. I love to travel with my family and I like photography.
Tutoring Subjects
1st Grade
1st Grade Math
1st Grade Reading
1st Grade Writing
2nd Grade
2nd Grade Math
2nd Grade Reading
2nd Grade Writing
3rd Grade
3rd Grade Reading
3rd Grade Science
3rd Grade Writing
4th Grade
4th Grade Reading
College Computer Science
College English
Elementary School
Elementary School Math
Elementary School Reading
Elementary School Science
Elementary School Writing
High School Computer Science
High School English
Homework Support
Other
Study Skills
Study Skills and Organization
Summer
Technology and Coding
What is your teaching philosophy?
I believe that children need to be in control of their learning. As a teacher I need to be able to adjust to my students needs. It's not their job to adjust to mine. As long as the objective is met and the student can demonstrate they have mastered the necessary content then we both win! It's doesn't matter so much HOW we arrive at their success, only that we get there!
What might you do in a typical first session with a student?
The first session will be building a relationship and rapport with the student. I need to understand their goals and how they define success and ask them what I can do to help them reach their goals. Once a good relationship is established then we can get to work. If I lose them to frustration as long as I have developed a relationship with them and they know I am on their side, I can always get them back!
How can you help a student become an independent learner?
By giving them tools to be independent. It starts with how they learn and how they organize. They might not be able to manage organizing everything on a computer but would do well with a small notepad. I have to gather a complete understanding of what is keeping them from being independent and work with them to remove that obstacle.
How would you help a student stay motivated?
I have to find what motivates them. For some it's good grades, for some it's money, if it's a kindergartner it could be as simple as a sticker or a piece of candy. So we start with the extrinsic motivation and fold that into intrinsic motivation. But I have to learn what drives them first and that some with that first day where I get to know them and build a good relationship.
How do you help students who are struggling with reading comprehension?
I give the strategies to help them determine the meanings of words in sentences. I do this by using real life reading situations, not just work sheets but actually reading a novel or book and stopping and asking them what certain words or phrases may mean. I also make sure they read a little bit above their grade level when we are practicing, as most tests are usually written above the grade level of a struggling reader. I also make sure they know how to employ those strategies during real live testing taking situations.
What strategies have you found to be most successful when you start to work with a student?
Building a relationship with a student is very important. The student has to know that you care about them and are invested in their learning. I always want to know what their likes and interests are so that I can integrate them into our sessions.
How would you help a student get excited/engaged with a subject that they are struggling in?
I make sure to integrate things they are interested in in the lesson as much as possible. Also, I am a big believer in hands on project based learning. So once I found what they are interested in I would work to find hands on activities that allow the students to have fun and connect with their learning but still master the necessary objectives of the subject they are struggling in.
What techniques would you use to be sure that a student understands the material?
If a student truly understands something they should be able to teach someone how to do it. So to review and make sure the student understands I usually have them teach me how to do what they have been struggling with. If they can effectively teach me then I know they understand the material.
How do you build a student's confidence in a subject?
A student needs to hear that they CAN do this. Despite what they may think of as constant failures there is usually just a lack of confidence. So even if a student does something that results in a wrong answer I put the emphasis on everything they did correctly. Then in the end begin to talk about what they needed to do differently.
If a student has difficulty learning a skill or concept, what would you do?
I would break the concept down and see if there is a certain part the student is having trouble mastering and focus on that. If that were not a possibility I would ask the student to teach me the concept. Usually by doing that I can see where the breakdown in understanding is.
How do you evaluate a student's needs?
By speaking with the parents and speaking with the students. I think it's good to start with the parents and get their expectations for their child then speak with the students and understand what they need based on those expectations.
How do you adapt your tutoring to the student's needs?
I have to first figure out the type of learner the student is. If they are a very visual learner who needs to see lots of different things to grasp a concept then I know I will need visuals and manipulatives. If they are fine with discussing things and don't want the visuals or manipulatives then I would adjust accordingly.
What types of materials do you typically use during a tutoring session?
I also have a computer or a laptop because now-a-days that's what students are accustomed to in their classroom. I also always have a pen for myself, a pencil for the student and paper. If I am tutoring a student in reading I also always have a chapter book that we can begin reading together. I may have comprehension worksheets and for elementary students, usually a little incentive such as a piece of candy to give when they do an exceptional job on something.