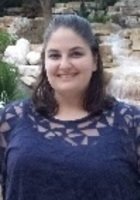 Leslie
Certified Tutor
I am currently a special education teacher at an elementary school in San Antonio. I work with students who have severe and profound disabilities. I also have worked with students with learning disabilities. I graduated from Trinity University with a degree in Humanities. I then earned my Masters of Arts in Teaching, also from Trinity University. I am certified in Elementary Education, Special Education, and ESL.
When I teach, I believe that it is essential for the student and the teacher to be comfortable with each other. We won't be able to learn together if we don't know each other on a personal basis. When I start tutoring sessions, I make sure that I get to know my students first. That way we are able to build a strong relationship before we start into the academics.
Another of my teaching beliefs is that everyone can learn. Everyone learns in a different way and everyone has their own style, but everyone can learn. Part of my job as a tutor is to find the style that is best for my student. Sometimes you have to go back to the basics, or use pictures to help, but regardless of whatever method works best, everyone can learn.
Hobbies
playing on the playground with my daughter, walking, camping, watching movies
Tutoring Subjects
3rd Grade Science
4th Grade Science
5th Grade Science
Art
College English
Elementary School Math
Elementary School Reading
Elementary School Science
Handwriting
High School English
Homework Support
Other
Study Skills
Study Skills and Organization
Summer
What is your teaching philosophy?
I believe that all students have the ability to learn. Everyone learns in different ways, so it is important to teach students in a variety of ways so that at least one way will stick with that student. I believe that my classroom is a family. It is important to not just talk about the subjects, but to get to know the student and connect with them on a personal level.
What might you do in a typical first session with a student?
I would like to spend time getting to know the student. It is important to me that I know the student I'm working with on a personal level. If we don't have a connection, then the subjects I teach won't be beneficial. I will also make sure the student knows me. Their connection with me is just as important as my connection with them.