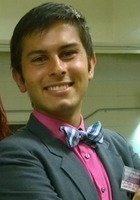 David
Certified Tutor
I have completed and received credit for basic math through Calculus 2 and Differential Equations. Math has always been a favorite of mine and I want to pass that appreciation on to others struggling in the subject. I also have experience when it comes to tutoring and teaching. I have been tutoring math for four years alternating between an official and unofficial basis. In regards to my general teaching experience, I have nine years of conducting regular bible teaching sessions in people's homes at their convenience.

I am currently an undergraduate student at Central Arizona College. I have enough credits and difficulty of classes to receive an AS degree with a 3.5 + GPA. I will apply for the degree this up coming semester.
Education & Certification
Undergraduate Degree: Central Arizona College - Current Undergrad, Mechanical Engineering
Hobbies
Swimming, running, sports, video games, Star Trek, Star Wars, and teaching.
What is your teaching philosophy?
My philosophy when it pertains to math is that every level is equally hard. From algebra 1 to differential equations, it is going to be roughly the same level of difficulty. I never look down on someone that does not know as much math as I do, because they just do not know it yet and it is my job to teach them.
What might you do in a typical first session with a student?
Typically, if I am going to consistently tutor someone, I will feel them out. Every student is different and they should be treated and taught differently. The first session will to basically see their attitude toward math and there approach to certain questions. This way I will be able to understand what to focus on for the lessons to come.
How can you help a student become an independent learner?
When teaching I do not focus on "how" things are done. I do not make them memorize functions or remember "math tricks." I focus on "why" things are done. Math is mostly logic, and if the student understand why they use a certain function or follow a certain process, then they will be ready and be able to prepare themselves for anything.
How would you help a student stay motivated?
It is really up to the student if he will stay motivated, but what I can do as a tutor is make sure that the student is never bored. I will also make sure that the student has a complete understanding of the subject matter, because math becomes fun when you know what you are doing.
If a student has difficulty learning a skill or concept, what would you do?
Persistence and patience is the key. Many times the reason someone has difficulty with a concept is because they forgot a simpler concept that deals with what they are currently studying. My job would be to find what they do not remember and tie it into what their current problem is.
How do you help students who are struggling with reading comprehension?
This is difficult, as this hurdle probably takes the longest to circumvent. However, the best thing I can do is let them read and have them explain to me what they read and be very patient with their answers.
What strategies have you found to be most successful when you start to work with a student?
One strategy that I particularly enjoy is 5 to 10 minutes of warm up time. In this time I will sit down with the student and explain to them every bit of the concept they are working on. I will continue on, much like a YouTube instructional video, however, they will be able to ask questions. This way the student is not forced to use a lot of brainpower if they do not want to. But, they are getting acclimated to the lesson soon to come.