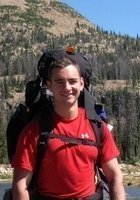 Ben
Certified Tutor
I have learned a lot of things throughout my academic career, but without a doubt the most important thing I have learned is the value of hard work, and how each of us can unlock an incredible number of opportunities and achievements with the right amount of dedication and discipline. It was this mindset that helped me succeed in High School and graduate as a valedictorian which, in turn, helped me get a scholarship to attend Loyola University New Orleans. While I was there I applied myself in equal measure and was able to graduate Cum Laude with a Major in Latin American Studies and a Minor in Music. I also had the opportunity to pursue a bit of adventure during college, spending a full six months living in Latin America as a public health intern in Honduras and an exchange student in Mexico. All of these experiences have shaped who I am today and I am eternally grateful not only for the opportunities that I have had, but most of all for the work ethic that provided them to me. I hope to help all of my students not only progress in their academic work, but also in their development of organizational skills and work habits that will enable them to succeed in every environment they may encounter.
Test Scores
SAT Composite (1600 scale): 1520
SAT Math: 700
SAT Verbal: 750
SAT Writing: 760
Hobbies
Scuba Diving, lifting weights, running, swimming, hiking, reading, music, martial arts
What is your teaching philosophy?
I believe that a good teacher knows how to engage the student in the learning process and help them to think critically about not only the academic subject at hand, but also how it relates to them and their life in a larger context. A good teacher knows how to provide the student with tools that they can apply to other areas of their life in addition to academics.
What might you do in a typical first session with a student?
The first step with any student is to assess where the student is at in their understanding of the subject. It is very difficult to help the student progress if you do not know where to begin.