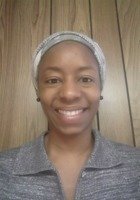 Safiya
Certified Tutor
I am a graduate of Bayero University Kano in Nigeria, and Shippensburg University in Pennsylvania. I have a BS in Zoology, with a concentration in herpetology, and an MS in Biology. My interest in the French language comes not only because my home country of Nigeria is bordered by four Francophone countries, but also because I love networking. I learned French at one of the Alliance Franaise centers in my country, and served for some time as a tutor before coming to the United States. I was privileged to work with different age levels, from adults to children.

At Shippensburg University, I worked at the learning center for about two years, where I tutored both French and biology (especially ecology & conservation). I enjoyed it because I was able to learn different tutoring and time management strategies, how to effectively work with students with different learning styles and paces, and how to work with students in groups or individually. I was able to help my tutees overcome their fear of learning French, erasing the words "we can't" from our dictionaries and replacing them with "we can." Another interesting thing I was able to teach them was the secret to counting from 21 to infinity within 30 60 minutes.

Whenever I am less busy, I love learning about other people's cultures and traveling to see the world.
Education & Certification
Undergraduate Degree: Bayero University Kano, Nigeria - Bachelors, Zoology
Graduate Degree: Shippensburg University of Pennsylvania - Masters, Biology; herpetology concentration
Hobbies
Travelling, networking, poultry/fish farming
What is your teaching philosophy?
I try to be as detailed as possible. I don't encourage note taking until the topic is well understood. I encourage students to actively participate, either by asking or by responding to questions during sessions.
What might you do in a typical first session with a student?
We get to know each other by name, and I ask the student what he/she needs help with. I then ask him/her a couple of questions in the topic to demonstrate his/her level of understanding.
How can you help a student become an independent learner?
Teach them the rules and strategies that are applicable for every topic.
How would you help a student stay motivated?
Words of encouragement - even when a student is frustrated, I do my best to let him know that patience is key and I am there to help. I sometimes use myself as an example- I am not a native speaker. I use the student's best learning method to help out.
If a student has difficulty learning a skill or concept, what would you do?
Use real life scenarios, objects or the student's easiest learning strategy to help.
How do you help students who are struggling with reading comprehension?
I use the accents present in French language and I give examples. I also encourage students to spell the word based on how they will remember the correct pronunciation (phonetically).
What strategies have you found to be most successful when you start to work with a student?
Learning the rules involved, and for kids, songs, pictures and toys.
How would you help a student get excited/engaged with a subject that they are struggling in?
Depending on the age, I will use toys, games, cartoons, songs, French comedies, etc.
What techniques would you use to be sure that a student understands the material?
We ask each other questions, either from textbooks or somewhere else.
How do you build a student's confidence in a subject?
The use of words of reinforcement - for example, "Excellent! Awesome! Good job, keep it up!"
How do you evaluate a student's needs?
Know the student's level in the language: for example, is he/she a beginner? Provide necessary materials to help keep up with the learning
How do you adapt your tutoring to the student's needs?
I study my students' learning paces and the methods they understand the best - that is my yard stick.
What types of materials do you typically use during a tutoring session?
Depending on the age group, I use pictures, songs, comedies, toys, real life objects…