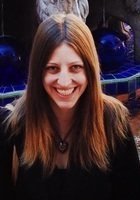 Brittany
Certified Tutor
My main goal in life is to make a difference in the lives of others and I believe that I can achieve this through tutoring. I enjoy working with students at all levels because I enjoy the challenge and love to help others grow no matter where their starting point may be. I have a strong background in English and Communication Arts and I desire to use my skills to create multiple ways for my students to learn material in an interesting manner. Overall, I want to inspire others to be the best person that they can be and to teach my students that they truly can achieve anything with hard work and dedication.

I received my Master's degree in Interdisciplinary Studies, focusing on Communication Studies and Writing, from Cal State University, Northridge. I completed my Bachelor's degree in Youth Theatre at San Diego State University. I have experience working with students in grades K-college. I have worked as a Youth Arts Program Director, where I have taught creative writing, performing arts, and public speaking classes. I have also served as a teacher for Teach for America in Las Vegas, where I taught Reading, Writing, and Drama to middle school students.

I have four years of tutoring experience in Reading, Writing, Public Speaking, and Performing Arts. I believe that communication is a crucial part of our lives and desire to teach my students how to best utilize this skill to be successful in life. I want to share my passion for learning with my students by catering to their individual learning needs and interests, which will optimize their success.

My favorite subject to tutor is Writing because I enjoy teaching my students how to showcase their own voice. In writing you have the freedom to show your own personal style while talking about any topic, which can be a powerful tool for self-expression. Writing is a way for the author to be heard and I enjoy helping my students learn how to adequately get their own voice heard by the rest of the world.

In my free time I enjoy hiking, photography, and spending time with my dog. I love exploring new places and have an interest in travel. I like to watch comedy movies and enjoy music of all kinds.

Education & Certification
Undergraduate Degree: San Diego State University - Bachelors, Theatre Arts
Graduate Degree: Cal State University, Northridge - Masters, Interdisciplinary Studies
Hobbies
Helping Others, Performing Arts, Communication, Hiking, Traveling, Photography, Crafts, and Running.
Tutoring Subjects
10th Grade Reading
10th Grade Writing
11th Grade Reading
11th Grade Writing
12th Grade Reading
12th Grade Writing
1st Grade Math
1st Grade Reading
1st Grade Writing
2nd Grade Math
2nd Grade Reading
2nd Grade Writing
3rd Grade Math
3rd Grade Reading
3rd Grade Writing
4th Grade Math
4th Grade Reading
4th Grade Writing
5th Grade Math
5th Grade Reading
5th Grade Writing
6th Grade Math
6th Grade Reading
6th Grade Writing
7th Grade Math
7th Grade Reading
7th Grade Writing
8th Grade Math
8th Grade Reading
8th Grade Writing
9th Grade Reading
9th Grade Writing
Adult Literacy
College English
Elementary Algebra
Elementary School Math
Elementary School Reading
Elementary School Writing
Expository Writing
Fiction Writing
High School English
High School Writing
IB Theatre
IB Theatre HL
IB Theatre SL
Middle School Reading
Middle School Writing
Persuasive Writing
Technical Writing