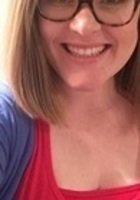 Kalee
Certified Tutor
I am a sixth and eighth grade math teacher in a public school, and love what I do! Being a professional teacher allows me to have a greater understanding of current testing standards and requirements, as well as of several different curricula being used in various counties. My background is predominantly in music education, so my approach to teaching mathematics is very unique. I am all about hands-on learning and movement. I believe that every child (no matter how old) should be able to learn in the way that is best for them, and, since no two children are alike, should receive personalized activities and skill building. For older students specifically, I try to learn about them and incorporate their interests into the academic curriculum to engage them.

I don't expect that every student will love learning every subject. However, I do believe that every child can love the learning process.
Hobbies
piano, music, center and rotation workshops, movies, college footbal
What is your teaching philosophy?
That every single student should be able to learn according to their interests and needs.
What might you do in a typical first session with a student?
First thing - get to know them! Learn a little about them and who they are (what they are involved in at school, what they're interested in, etc.). Second - give them a preliminary assessment on whatever they were specifically wishing to improve in.
How can you help a student become an independent learner?
Teach them the skills necessary to master the concepts embedded within the academic subject area, then make sure that they have confidence in their own ability to be successful.
How would you help a student stay motivated?
Build the learning from the ground up. Start with foundational material that lays the groundwork for more difficult skills. Chunk the learning into "digestible bites" that the student can master and be successful at.
If a student has difficulty learning a skill or concept, what would you do?
Break the concept down. Then find ways to incorporate the skill or concept they are struggling with into things they are interested in. Also, find games or fun activities that incorporate the concept.
How do you help students who are struggling with reading comprehension?
Take time to review the material piece by piece.
What strategies have you found to be most successful when you start to work with a student?
Getting to know them and building their trust first is key. This way you can diagnose their academic deficiencies in the content they are studying.
How would you help a student get excited/engaged with a subject that they are struggling in?
Tie it in with what they enjoy! Make it a fun activity or game.
What techniques would you use to be sure that a student understands the material?
Multiple forms of informal and formal assessments! Formal assessments being 2 to 5 question quick quizzes that check for immediate comprehension, and then also informally assessing how they solve the problems - looking for errors in procedure or calculation.
How do you build a student's confidence in a subject?
Break the subject apart, and start with what the child knows. Then, show the child how to use what they already understand to master the new content or skill.
How do you evaluate a student's needs?
Every time you work with them! Take note of the questions they ask, the skills that trip them up along the way, and obviously the mistakes they make.
How do you adapt your tutoring to the student's needs?
Constantly assess their growth with the material. If they have made gains in one area, press on to the next. If they need more time or confidence in something, take the time to review or readapt a previous activity or lesson plan.
What types of materials do you typically use during a tutoring session?
Dry erase boards, pdf worksheets, brief videos, etc.