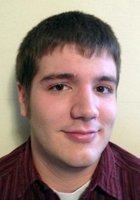 Ryne
Certified Tutor
I'm a Biomedical Engineer Studying Neural Engineering for my PhD work at IUPUI. During my years have I have had a few years experience in math, computer programming, physics, and biology. I really enjoy what I do and I'm hoping to excite people on the amazing opportunities that STEM (Science, Technology, Engineering, and Mathematics) fields hold for the future. The focus I give on tutoring is building up excitement on what you can actually do with the theory. It is one thing to learn but when you can apply it to something you love, that is what allows people to excel. This approach really helps students retain the information much easier.

As for myself, I like to tinker. I'm proud to say I have been able to recently build myself an electronics workbench at home for working on electronic projects. Currently I'm working on designing and manufacturing a precision linear power supply and a precision function generator to add to my bench. On rainy cold days I do enjoy playing video games and cooking up a mean meal from scratch.
Hobbies
Traveling, Cooking, Electronics, Video Games, Rock Climbing, Hiking
Tutoring Subjects
Biomedical Engineering
College Physics
Electrical Engineering
High School Physics
Mechanical Engineering
What is your teaching philosophy?
You learn by doing. Learning theory is one thing, but application is the important lesson.
What might you do in a typical first session with a student?
I would need to start with what the student does not know or hopes to learn. We would need to establish goals so that a plan can be developed to meet those goals.
How can you help a student become an independent learner?
I would work to not just show them how to do a problem, but to build an understanding as to why those steps are done.
How would you help a student stay motivated?
A lot of the times students are distracted and discouraged from their work by not seeing a purpose or relevance to their homework. I would take breaks to discuss why this is important, not only as a grade but how it can be used in practical applications. Maybe show cool examples of a theory in practice; YouTube is a gold mine of science!
If a student has difficulty learning a skill or concept, what would you do?
It is easy to get lost in an equation. I find that stepping back and looking at an illustration or figure of what you are doing helps. I always have a mental picture of what an equation means before I start a problem.
How do you help students who are struggling with reading comprehension?
Have them draw it out. It may seem silly, but actually a lot of qualifying exams tend to have only very simple questions that are hidden under a mountain of text. I would recommend taking your time to ensure you fully understand the problem before diving head-long into the work.
What strategies have you found to be most successful when you start to work with a student?
Building a relationship that emphasizes that I once had difficulties on these very same problems. If you want to get better, you can, but only if you want it. You should always look ahead and set goals as to what you want to achieve tomorrow, this semester and even years from now.
How would you help a student get excited/engaged with a subject that they are struggling in?
YouTube is a gold mine of science at work. There is bound to be examples of nearly any subject. I find it helps to see the practical applications. No one ever thought it would be fun to solve equations or look into biological processes. They only did it because they set a goal, and they did what was needed to achieve that goal and further their understanding of our world.
What techniques would you use to be sure that a student understands the material?
Have them teach me. You may think that you know a subject, but if you can't teach it you may not know it well enough.
How do you build a student's confidence in a subject?
Let them take the wheel. After some practice in the subject, they should be able to teach me. I believe that kind of understanding will give them all the confidence they need.
How do you evaluate a student's needs?
By looking at their step-by-step process to see how they think. I was a student in the same subject and had my own misconceptions. It makes it easy to see how the student thinks, and how to steer them back on course.
How do you adapt your tutoring to the student's needs?
I had a professor once who made no plan for class. Seems lazy, but he actually was letting us explore the subject like the people who founded the material of that class. We asked questions, and he would probe us to answer the question using what we knew. Between all of us, we were able to solve it ourselves, and he did not have to throw up some theorem on the board. This critical thinking is what turned around my idea of how to approach a problem. Don't just find the right equation for the job, but think about how to go about deriving the equation. It gave me a greater understanding as opposed to a typical lecture style. Long story short: find out how they think, and use that to solve the problem.
What types of materials do you typically use during a tutoring session?
Pencil and paper. Nothing beats working a problem out on scratch paper. You can do your math alongside graphs, charts, tables, etc. Once you have a plan, then you can turn to the calculator or computer to finish it up.