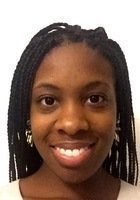 Rashana
Certified Tutor
I graduated from the University of Pennsylvania in 2013 where I received a Bachelors of Science in Economics with a concentration in Marketing. I currently live and work in NYC after a brief stint in Boston. I am studying to take the GMAT so I understand the frustration that students studying for the SAT may feel.

As a tutor, I focus primarily on Math as that was always my strongest area of study. I scored above the 95th percentile on the Math section of the SAT. I have previous experience helping students to increase their performance on that area of the test. I enjoy helping students to understand topics where they have previously struggled. It is rewarding to see them finally grasp a topic that they were finding difficult or watching their SAT scores increase after learning some strategies.

As the oldest child in my family, I have always been around children anywhere from 6-14 years younger than I am. I enjoy working with younger students and I have the patience to go at their pace.
Test Scores
SAT Composite (1600 scale): 1460
SAT Math: 760
Hobbies
Traveling, Exploring New Cuisines, Ceramic Arts, Orchestra
Tutoring Subjects
Elementary School Math
Homework Support
Other
Summer
What is your teaching philosophy?
I work with students to identify the root cause of their problem with the material. From there, I work with them to break the information into more understandable pieces. This will help them to understand similar questions in the future because they will recognize the pattern.
What might you do in a typical first session with a student?
The first session with a student will primarily be used to level set. I will use this time to understand why they need help and what are they are looking to achieve through our sessions.
How can you help a student become an independent learner?
I help students to understand more than just the question or problem at hand. Showing students how to break down the question into more understandable pieces allows them to be able to apply the same strategies to other areas of learning.
How would you help a student stay motivated?
Celebrating even the smallest of wins helps students to see that they are making progress. When students are able to see the connection between the extra work and greater understanding or better grades, the motivation will follow.
If a student has difficulty learning a skill or concept, what would you do?
The first step is to figure out why they are having difficulty. I will work with the student to fully gauge what they understand about the topic and where the disconnect is coming from. Once the cause of the problem comes to light, it is easier to chart a course to success.
How do you help students who are struggling with reading comprehension?
There are many strategies that can help students who are struggling with reading comprehension. The first approach I will take is to teach students how to pick out exactly what they are not understanding. Very rarely is there a case when students do not understand everything they are reading. Usually, they run into a sentence, paragraph, or idea that confuses them, and they begin to question their entire understanding of the text. Once students learn to identify the exact area that is causing their confusion, they can figure out how to make it more clear. Another step is to use paragraph mapping. This will help students to understand the structure and purpose of paragraphs within the text. It also helps them to further their understanding by restating the important piece of information in their own words.
How would you help a student get excited/engaged with a subject that they are struggling in?
There are two things I will do to help engage struggling students. The first is to celebrate small successes. This will show them that even though they are struggling, this is an area that they can succeed in with a little extra help. Secondly, I will try to relate the information to something they find exciting. I will show them how to look at the information through the lens of what they find exciting, whether it is sports or anything else.
What techniques would you use to be sure that a student understands the material?
When tutoring, I let the student do most of the talking. I encourage them to walk me through the problem and then guide them when they veer in the wrong direction. I work with them to solve a problem at hand, and then I let them do the rest of the problems by themselves. By using this technique, I am able to understand if the student will be able to work through the material on their own.
How do you build a student's confidence in a subject?
I celebrate all successes in the area, even if they may seem small. This shows students that they are making progress, which will help to build their confidence. I will also work with students to break the topic at hand into more understandable pieces. When they see that they understand all the pieces of the topic, they will be more confident in the topic as a whole.
How do you evaluate a student's needs?
I will look at previous tests to understand where they struggled. If they do not have previous tests, I will use a diagnostic to figure out where they are struggling.
How do you adapt your tutoring to the student's needs?
I will work with students to understand what is most effective in helping them to understand what we are working through. I will approach the question from multiple angles and teach it in different ways until we find one that works best.
What types of materials do you typically use during a tutoring session?
Mostly, I will use the books that students are working with on a daily basis. I will also have some supplemental worksheets that we can work on together.
What strategies have you found to be most successful when you start to work with a student?
Patience, understanding, and trust are the strategies that I have found to be most successful. The first step in successful tutoring is building a relationship with students. Once they see that they can trust you and that you can understand how they are feeling, they are more willing and more open to the strategies you share with them.