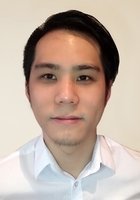 Jim
Certified Tutor
I earned my BA in Business Economics at UC Riverside. I mainly specialize in tutoring math up to and including Algebra II and standardized tests such as the SAT and GRE but can and will tutor in other subjects. I would also consider myself a very good test-taker and would love to impart some of my test taking tricks and tips to students to help make their lives easier and a little less stressful. I've taken and tutored the SAT, GRE, and GMAT. My favorite subject to teach would be math as it allows me to break down seemingly complicated concepts into easier ones for students to understand. I have both been tutored and have been tutoring since I was quite young so I know a variety of effective methods. I know firsthand the stress and frustration with having difficulty with particular subjects so I am very patient and try as much as possible to explain things in a way that is easy to understand and relatable. I love to travel and have lived in both the US and Asia for extended periods of time so I have experience interacting with people of all races and cultures. My other hobbies include basketball, trying new foods, and a little bit of video games.

Test Scores
SAT Math: 710
SAT Verbal: 720
Hobbies
Traveling, basketball, watching movies
Tutoring Subjects
Elementary School Math
Quantitative Reasoning
What is your teaching philosophy?
I like to break problems down to the most basic elements to help students understand easier. Additionally, I like to explore alternative ways to the right answer so students can choose what style fits them best.
What might you do in a typical first session with a student?
I like to know my students on a more personal level and find out what their interests and hobbies are. That way, I can find some common ground with them and help motivate them.
How can you help a student become an independent learner?
I almost never just give my students the answers to problems. If they are having difficulty, I try to give them all the tools they need to solve the problem and encourage them to try.
How would you help a student stay motivated?
Motivation comes in many different forms. I would try to get to know the student on a personal level and see what makes them tick.
If a student has difficulty learning a skill or concept, what would you do?
I would break down the concept into simpler forms and use analogies or real life situations as examples, if applicable.
How do you help students who are struggling with reading comprehension?
I would find something that interests the student and read it together with him/her, asking him/her questions along the way. I would also encourage them to read more on things that interests them in their own time.
What strategies have you found to be most successful when you start to work with a student?
Find out what motivates them and encourage them. Then build on their success.
How would you help a student get excited/engaged with a subject that they are struggling in?
Find common ground with the student. And if possible, use examples that would interest the student.
What techniques would you use to be sure that a student understands the material?
I would ask the student to explain to me the concepts in their own words. And if applicable, have them do a few practice problems.
How do you build a student's confidence in a subject?
Break down difficult concepts into easier ones. Once they begin to feel like the easier ones are manageable, they will have confidence to move on to the more difficult ones.
How do you evaluate a student's needs?
I always try to get the student's side first. I talk to them and ask them what they need help with the most. If possible, I talk to the parents and teachers as well.
How do you adapt your tutoring to the student's needs?
Find out what motivates the student and explain things in a way that the student can understand and relate to.
What types of materials do you typically use during a tutoring session?
I try to use the school's or official testing material if possible since they will most accurately foreshadow what's going to be on the actual tests the students will be taking.