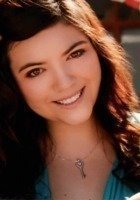 Morgan
Certified Tutor
I am currently finishing my degree in English Education at Northeastern State University. I have four years of tutoring experience and love helping students. I have been a tutor for the AVID program for four years and I am currently finishing up my degree in English Education. I love teaching, tutoring, and helping students reach their full potential.
Hobbies
I love reading as many books as possible and writing. I enjoy writing essays and research papers.
Tutoring Subjects
College English
Comparative Literature
High School English
Homework Support
Other
Study Skills
Study Skills and Organization
Summer
What is your teaching philosophy?
I believe that my role as the tutor is to bring out the academic best in students. They already have what they need; they just need someone to help bring it out in them.
What might you do in a typical first session with a student?
In the first session, I will typically get to know the student personally and tell them a little about myself. I feel like it is easier to work with someone when you are more familiar with them. After we talk for a few minutes, we could look at what they want to do overall: what are their main goals? Then we can move on to specifics from there.