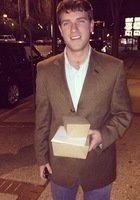 Daniel
Certified Tutor
I attended the University of Alabama where I received a BS degree in Biology. During school I also worked intermittently as a Park Ranger for the US National Park Service at Mammoth Cave National Park. After graduating in December of 2014, I moved to Baton Rouge, Louisiana where I worked briefly in a petrochemical laboratory as a technician. I moved to Nashville, Tennessee in August of 2015 while I apply to graduate programs to pursue a Masters of Environmental Engineering degree. I am very passionate about environmental problem solving and studying how our society interacts with the environment. During my time at the University of Alabama, I had the opportunity to choose courses ranging from biochemistry to ecology. I learned early on that I love studying biology and chemistry, but I was not innately good at them. It took me several semesters to learn how to study effectively and use the information given by professors in a way that I relate best. I believe that STEM education should be a priority in our schools, and I would love the opportunity to use my educational background as well as my work experience to foster the next generation of future scientists.
Hobbies
Running, Fishing, Camping, Hiking, Kayaking, Playing guitar, Writing
Tutoring Subjects
College Biology
Ecology
High School Biology
What is your teaching philosophy?
I believe the secret to teaching is presenting the material in a way that student can relate to it. Each student learns in his or her own way. The job of the teacher is to find the best way to present this information to the student for maximum understanding.
What might you do in a typical first session with a student?
In the first session, I would like to find out where the student is struggling, what their study habits currently look like, and find out about the student's personality and how they learn best.
How can you help a student become an independent learner?
Becoming an independent learner comes from being self-disciplined and truly being interested to learn. The best way to accomplish this is to show the student how fun learning can be, and what it feels like to succeed once you apply yourself to a subject.
How would you help a student stay motivated?
Motivation is a very subjective thing, and therefore it will differ from student to student. I would learn a student's personality and what drives them to succeed. Ultimately, frustration kills motivation faster than any other factor. I would be there to guide the student and help them progress towards a set goal. Keeping frustration out of the equation, they will be motivated by seeing tangible success in classwork.
If a student has difficulty learning a skill or concept, what would you do?
If a student is having difficulty learning a certain skill or concept, they are just not relating to how that information is being presented. I would take a step back and present the information in a new way until it clicks in their head. Oftentimes the student just needs to see the information in a new light for them to grasp it.
How do you help students who are struggling with reading comprehension?
Reading comprehension is best taken one step at a time. The student needs to learn skills to help them become an active reader. I would go through the passage with the student one paragraph at a time, having them take physical notes and jotting down questions. Important things to note are the author's tone and purpose, the topic of the passage, and the scope of the passage. Breaking down the passage and asking questions should help with reading comprehension.
How would you help a student get excited/engaged with a subject that they are struggling in?
It is easy for a student to become frustrated in a subject they are struggling in. I would find ways to make learning the material fun, rather than making it feel like work. Once the pressure is off the student, we can attack the material from a different angle which will hopefully raise comprehension. Any student who is succeeding in a class will remain excited/engaged, it is the frustration of struggling that causes a student to become disengaged.
What techniques would you use to be sure that a student understands the material?
The easiest way to make sure a student understands the material is to have that student explain the material to someone else in his or her own words. This shows that not only does the student understand the material themselves, but they can communicate it without quoting a textbook.
How do you build a student's confidence in a subject?
The easiest way to build confidence is success in repetition. For example in chemistry, I would have the student work practice problems to build confidence in solving problems and utilizing formulas. The student should eventually get to the point where they can read a question, extract needed information, and use the correct formula to solve the problem. Once they begin to consistently solve problems correctly their confidence will skyrocket in that subject.
How do you evaluate a student's needs?
To evaluate a student's needs, I would need to learn about the student's personality, what they are struggling in, what their study habits look like currently, and what they would like to achieve out of that course. Once I have all this information, we can create a plan to give the student the best help possible.
How do you adapt your tutoring to the student's needs?
I'm a strong believer that you cannot use the same technique for every individual student. Individuals learn in different ways, and each tutoring session will be different. A tutor must be able to think on their feet, find new ways to present information, and utilize different resources to help students succeed in a subject.
What types of materials do you typically use during a tutoring session?
Usually textbooks would be where I would start the lesson. From there, we can learn definitions and the overall lesson. For chemistry and biology, it is often helpful to see diagrams from the textbook or pulled from different sources online. There are great YouTube channels discussing and explaining complicated ideas. Even going outside and seeing these biological processes in real life can help make the material "click" in a student's head.