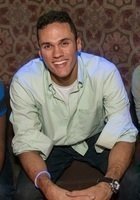 Nemil
Certified Tutor
Teaching has been of passion of mine since I began college. Helping others learn the subjects that I used to struggle through is something I enjoy doing.
I graduated from The University of Connecticut in Storrs with a degree in Biology. I have an great background in mathematics, physics, and biology.
If there is something I do not understand I will work my hardest to learn what it is I need to.
Hobbies
Tennis, piano, violin, music production, DJ, cooking, swimming, weight lifting, nutrition
Tutoring Subjects
Anatomy & Physiology
College Biology
High School Biology
What is your teaching philosophy?
I believe anyone has the potential to learn any subject. Sometimes, the right guiding hand can lead students to results that surprise even themselves.
What might you do in a typical first session with a student?
Learn their name, figure out what they're struggling in, what they actually enjoy, and the way they learn best.
How can you help a student become an independent learner?
I can do my best to give them the tools of problem solving. That way, they can figure out questions on their own.
How would you help a student stay motivated?
I would stay encouraging and positive. If they are frustrated, I would move on to another topic or take a break.
If a student has difficulty learning a skill or concept, what would you do?
Explain the topic in a variety of ways. I might also find a different source to show the student that might explain it better than I could.
How do you help students who are struggling with reading comprehension?
I would try to go through the reading with them slowly, and break up the reading piece by piece.
What strategies have you found to be most successful when you start to work with a student?
Explaining things in multiple ways.
How would you help a student get excited/engaged with a subject that they are struggling in?
I would try to relate the subject to them in a way that they would find interesting.
What techniques would you use to be sure that a student understands the material?
I would create questions for them based on things that we have covered to ensure understanding.
How do you build a student's confidence in a subject?
Have them answer questions to see if they understand the subject. If they were answering questions correctly, then they would most likely build confidence because they would understand the material.
How do you evaluate a student's needs?
I would ask them questions on the material they need to cover for class. If they do not understand certain material, I would go to more basic material and ask them questions on that, and we would build up from there.
How do you adapt your tutoring to the student's needs?
I listen to what they are asking for and what they would like to achieve. From there, I figure out how I can help them out with the subject they are struggling in.
What types of materials do you typically use during a tutoring session?
I would use a lot of online resources and some of my old material from when I was in school to help them.