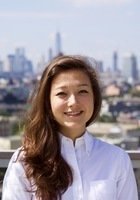 Mei-fan
Certified Tutor
Growing up in a bicultural family and attending high school in Tianjin, China not only allowed me to become fluent in Mandarin but also instilled in me a passion for Chinese language and culture that I am eager to share with my students. My own experiences of learning how to read and write Chinese have given me a valuable perspective and skill set that will greatly contribute to my abilities as a tutor.

I received my MS Physiology degree from Georgetown University and my undergraduate degree in Behavioral Neuroscience from Lehigh University, where I was afforded the opportunity to take graduate-level classes in Chinese literature. Having received a score of 5 in AP Chinese, taking advanced language courses, serving as a teacher's assistant, as well as providing professional translation and interpretation services for a company in Tianjin, I possess the relevant background and experience to teach students of all skill levels and learning goals.

I love meeting new people and look forward to learning and working together soon!
Hobbies
Running, volleyball, water polo, traveling, hiking, camping, cooking, reading, crafting, watching movies
Tutoring Subjects
Conversational Mandarin
Mandarin Chinese 1
Mandarin Chinese 3
Mandarin Chinese 4
What is your teaching philosophy?
Working together with my students to create fun and personalized lesson plans in order to achieve their study goals.
What might you do in a typical first session with a student?
Get to know each other and what the student's interests are, assess the student's skill level, discuss what they would like to accomplish through tutoring, gain a better understanding of how they learn and study best, and then begin tutoring!
How can you help a student become an independent learner?
Trust in their skills, fuel their desire to learn, and provide them with fun and productive learning tools and assignments that will allow them to learn independently outside of our tutoring sessions.
How would you help a student stay motivated?
Work together to create lesson plans that not only aim to achieve the student's learning goals, but also cater to their interests, skill level, and best mode of learning.
If a student has difficulty learning a skill or concept, what would you do?
Be patient and encouraging, as well as try several different approaches when teaching said skill/concept.
How do you help students who are struggling with reading comprehension?
Devote more time during each lesson to work on reading comprehension together, as well as provide take-home reading comprehension exercises/practice questions if appropriate.
What techniques would you use to be sure that a student understands the material?
Have open discussions with the student about their understanding of the material, observe their progress during our tutoring sessions, assess their performance via take-home assignments and quizzes, and ask for direct and honest feedback from the student (e.g. how their grades improved at school, etc. ).
How do you evaluate a student's needs?
By asking about and listening to the student's needs, speaking openly with the student about how they feel their lessons are going, observing their performance during our tutoring sessions and via assignments/quizzes, as well as re-evaluating and improving my lesson plans to better meet the student's needs.
What types of materials do you typically use during a tutoring session?
Textbooks, stories, news articles, practice questions/worksheets, video clips, music, learning games, and any materials that the student brings with them.
What strategies have you found to be most successful when you start to work with a student?
Getting to know each other, the student's personality, interests, learning goals, and skill level early on gives me the means to create more personalized lessons that allow for a much more successful learning and tutoring experience.
How would you help a student get excited/engaged with a subject that they are struggling in?
Helping them to succeed in our tutoring sessions, through lessons that are adapted to their interests, will allow them to become more engaged in the subject matter and more confident in their skills. This confidence will positively influence their performance in said subject outside of the tutoring sessions as well (e.g. at school, in the workplace, etc.).
How do you build a student's confidence in a subject?
By providing a positive learning environment and carefully planned lessons that will allow the student to improve their skills, grades, and confidence in said subject.
How do you adapt your tutoring to the student's needs?
By designing personalized lesson plans and utilizing teaching methods based on the student's needs.