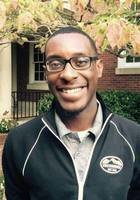 Brandon
Certified Tutor
Hi i'm Brandon! I am a graduate of the University of Southern Mississippi. I received a Bachelor of Arts degree in Spanish. I am passionate about teaching and inspiring students to develop interest in their target subject. I have extensive 5 years of experience in tutoring in Spanish & ESL. I have also studied French for two years and was privately instructed by a French linguist. Whether you are preparing for an exam, pursuing fluency, or accent acquisition, I will be more than happy to assist you. I am also skilled in Essay revision in both English and Spanish. Regardless of what subject area you are requesting assistance in, I vow to stand by you and support you until you have a firm understanding of the material that you are studying.
Hobbies
Studying languages / Playing music / Traveling / Quality time with friends
Tutoring Subjects
College English
Conversational French
Conversational Spanish
Elementary School
French 1
High School English
Other
Spanish 1
Study Skills
Study Skills and Organization
What is your teaching philosophy?
Work smarter, not harder.
What might you do in a typical first session with a student?
Get to know the student. Get a clear understanding of how well they understand the material, then develop a plan of how we will most efficiently and quickly learn the content.
How can you help a student become an independent learner?
Encourage students to be proactive in regard to critical thinking and problem solving.
How would you help a student stay motivated?
Words of affirmation!
If a student has difficulty learning a skill or concept, what would you do?
I would identify the obstacle that is hindering the learning process and adjust my teaching style appropriately to the learning style of the student.
What strategies have you found to be most successful when you start to work with a student?
Ask: What are you looking to get out of this session? How confident do you feel about the subject? What can I do to help you feel more confident?
How would you help a student get excited/engaged with a subject that they are struggling in?
AFFIRMATION & ENCOURAGEMENT - Acknowledge when they are doing well, and respectfully inform them when there are areas of improvement.
What techniques would you use to be sure that a student understands the material?
Instruct, clarify, quiz, and then review. - Always wrap it up with a big picture view of how the lesson relates to the overall subject.
How do you build a student's confidence in a subject?
AFFIRM, VALIDATE, ENCOURAGE, & CHALLENGE. - Students already possess confidence; they just need to be guided on how to remove the negative emotions that tell that they are not smart enough. Fear of failure generally creates a lack of confidence. Once they begin to learn, they will naturally begin to access their inner confidence.
How do you evaluate a student's needs?
Most importantly by asking, how can I help you (I never assume the need of a student)? - Observing tendencies and habits generally give more insight on where help is needed as well.
How do you adapt your tutoring to the student's needs?
I try to at all times be conscientious of the fundamental learning style of each student to ensure that I am teaching in a way that is beneficial. - Ask if the style is helpful. - Observe what works best and adjust. - Ask the student what would be helpful.
What types of materials do you typically use during a tutoring session?
* Online resources * Video clips * Traditional teaching tools
How do you help students who are struggling with reading comprehension?
I would teach them fundamental skills to improve the comprehension. 1. Context provides clarity 2. Focus on what you know 3. Read to extract meaning, among many more...