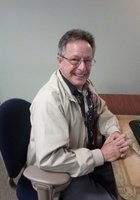 David
Certified Tutor
I believe that anyone of average intelligence can learn anything they desire to know. Accomplishing this may require all of one's curiosity, tenacity, diligence, and integrity that can be brought to bear upon the target, but with an undaunted intention to master the subject, their mastery of it will occur. I possess the ability to impart an understanding of a complicated subject or concept to another in a way that illuminates the inherent simplicity in it for them. If there is a modicum of willingness or a spark of curiosity within the student for the subject at hand, I seize it, nourish it, and use their resulting resurrected enthusiasm to help me bring him through any existing confusion. Together we arrive at a bright, clear understanding of the subject; and, importantly, they gain an appreciation of their new understanding and a confidence in their ability to learn whatever they want to know. I find the task of helping another in their search for a greater understanding of a subject or concept to be a source of great satisfaction to me, though I never pursued education as a profession. Tutoring provides me with many opportunities to do so; and who knows where the student's search for knowledge may lead them. With even further application of their faculties, they may then be privileged to become one to expand the horizons of that subject beyond their current bounds!
Education & Certification
Undergraduate Degree: Lorain County College - Associates, Computer Science
Hobbies
Ham Radio, Smoking meat, fish, cheese, etc., Chess, Astonomy, Model Rocketry, Fishing, Sailing
Tutoring Subjects
BASIC
College Computer Science
Elementary School Math
High School Computer Science
Homework Support
Other
Study Skills
Study Skills and Organization
Technology and Coding
What might you do in a typical first session with a student?
I will get "intellectually intimate" with him so as to establish his goals and help him to visualize how his mastering the subject will help him to realize those goals. We will then discuss what area(s) of the subject he is having trouble with, so I can work out an overall plan and give him achievable steps to accomplish before my return.
How can you help a student become an independent learner?
First, by ensuring he performs basic rudimentary actions like defining every word he doesn't know or isn't sure of, and by doing drawings and diagrams so he sees that he understands the materials and can do the exercises and procedures as outlined. I show him how to detect that he is getting into trouble in his studies, and how to handle that so that he gets back on track on his own.
How would you help a student stay motivated?
I have him remember his initial verve and enthusiasm for studying the subject, then with that resurrected willingness, we discuss what future benefit he will derive by having mastered the subject. At that point, I explore to determine what part of it is giving him trouble, and we resolve that confusion. Once the above has been done, he is motivated to continue.
If a student has difficulty learning a skill or concept, what would you do?
I ensure that he understands the terms used within the subject by asking him for their definitions and having him demonstrate his understanding of them for the purpose of finding those words he doesn't know and getting their definitions understood. Then, we go back to where those words are used in the text and reread it for a better understanding. I make sure that he can now demonstrate how he would utilize this concept or skill in a relevant situation.
How do you help students who are struggling with reading comprehension?
I find that these students are missing fundamental aspects of reading like pronunciation, spelling, definitions, the word's proper grammatical usage, and correct sentence structure. Remedying this is a large undertaking that takes a thorough review and assessment of the student's basic reading skills and filling in the missing pieces from the beginning up to the grade level they are in.
What strategies have you found to be most successful when you start to work with a student?
I find that I must determine their attitude towards the subject, and if non-optimum, we work out what I will need to do for the student's attitude to be more accommodating toward their learning. This becomes a necessary first step. Then we can determine what will be the best plan of action to take.
How would you help a student get excited/engaged with a subject that they are struggling in?
I get an understanding of what they describe their issues to be. I provide them with the hope that we can resolve their issues, and engage them as we go about doing so.
What techniques would you use to be sure that a student understands the material?
I would ask him about the meanings of multiple and various terms from the text. Then I would have him use them in well-constructed sentences that show he understands them. I would look for some principle or procedure in the text that I would have him describe and/or demonstrate to me with drawings or diagrams and such. I would be sure that he could perform any exercises and practice problems included in the lesson. I would have him describe how he foresees his utilization of these things in his life, with specific examples if possible. I might then give him a quiz, with questions designed to consult his understanding of the material.
How do you build a student's confidence in a subject?
By showing him that he understands what he already understands through our discussion of the subject, then taking up a concept new to him, and working through it to his comprehension of it as well. I then would have him demonstrate or describe how he could use this new concept, and how it fits into what he already knew about the subject. We might have to do this more than once before he would realize that he could be confident in learning the subject, but by doing this he will eventually come to that conclusion on his own.
How do you evaluate a student's needs?
I determine what he understands and what he is lacking understanding of through discussion and practical application of the subject. Testing is another means to assess the completeness of his understanding of a subject.
How do you adapt your tutoring to the student's needs?
I will give the student successes along the way, stressing those as we progress through the materials, and take up the areas he needs help with as they come up. If I determine that we need to gain a better understanding of prior areas, we will go get them understood before we return to taking up the next item. This approach accounts for most study situations quite nicely.