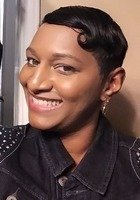 Nabalee
Certified Tutor
I currently teach English to Chinese speakers online. The majority of my students comment on my patience and ability to make them comfortable when tackling a difficult language such as English. I have a law degree from Penn State and a undergrad degree in international business from Dickinson College.
Tutoring Subjects
College English
Conversational Mandarin
High School English
Mandarin Chinese 1
Other
Study Skills
Study Skills and Organization
Summer
What is your teaching philosophy?
Learning is the FUNdamental of life! It should always be FUN!
What might you do in a typical first session with a student?
Have a quick conversation with the student to figure out what he/she wants to accomplish.
How can you help a student become an independent learner?
Make a plan for success! A journey of 1,000 miles begins with one step.- Lao Tzu
How would you help a student stay motivated?
Smiling and being positive!! It's infectious!