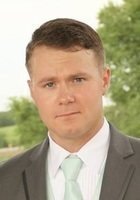 David
Certified Tutor
As a tutor I believe it is my job to not only help you with your homework, but to also help you learn the core material. If something does not make sense, let us go back until it does, and then progress from there.

I also enjoy making the subject matter fun, and if that is not possible, at the very least relatable.
Hobbies
I enjoy fishing, camping, automotives, and being physically active.
Tutoring Subjects
Anatomy & Physiology
College Biology
College Chemistry
High School Biology
High School Chemistry
If a student has difficulty learning a skill or concept, what would you do?
I like to go back to underlying concepts that they already understand and move forward, making sure the concepts are grasped until we move past the initial difficult concept.
How can you help a student become an independent learner?
Other than the obvious answer of teaching a student the methods of a particular style, my favorite answer is confidence. Make the student confident in their work.
How would you help a student stay motivated?
I would help make the subject matter fun, or at least relatable. If a student is competitive, use that drive. If a student enjoys games, make it a game.
What strategies have you found to be most successful when you start to work with a student?
Breaking the subject matter down to its core components and building our way back up. Add some patience on my part and some confidence on their part, and we are well on the way.