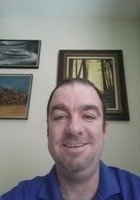 Mike
Certified Tutor
I have been a teacher and a tutor for the past 20 years. I love working with students and helping them reach their "ah-ha!" moments. I can teach to different learning styles and use multiple methods to give instruction. I enjoy the connections that I make with the students that I work with, and will do whatever I can to help them succeed and thrive. I have a Bachelor's in Psychology and a Master's in Special Education. I speak fluent Spanish and have lived in Mexico for 2 months during my Master's degree program. I am a huge sports fan, with basketball, baseball, and football being my favorite. I am also an avid reader, with Stephen King being my favorite author. I look forward to working with your son or daughter to help them succeed!
Hobbies
Reading, Watching Sports, Traveling
Tutoring Subjects
9th Grade Reading
Adult Literacy
College English
College Level American History
Conversational Spanish
High School English
High School Level American History
Other
Social Sciences
Spanish 1
US History
What is your teaching philosophy?
Students need real world experience and to see how the subject relates to them and their environment in order to understand its importance and comprehend it fully. Instruction without real world connections or practice is incomplete.
What might you do in a typical first session with a student?
I would typically get to know them and what goals they have for the sessions by the end. I would also perform some testing to see what level they are performing at and what specifically they are having difficulty with. I would then map out a plan with their input to get them where they want to go.
How can you help a student become an independent learner?
Giving homework is essential to have them become independent. However, there is more to it than that. Students must have an internal motivation to want to do well to help them become independent. That comes from practice, desire, and seeing the connection from the material to the world around them.
How would you help a student stay motivated?
Constant contact is essential, as is positive feedback and praise when they do well. When they do not do well, an analysis is needed to see specifically the skills that are needed to be worked on, and to let the student know that they just need to keep on going to get there. Nothing is achieved without hard work and perseverance.
If a student has difficulty learning a skill or concept, what would you do?
I would look at the concept and break it down to see specifically what they are having difficulty with, and then target that skill. Repetition and review are also essential, as is connecting the material to the real world.
How do you help students who are struggling with reading comprehension?
Looking at specific vocabulary and how it is used in context is key. Using pictures and key words in the story to understand what is being said is also important. In addition, relating the key vocabulary back to the student's frame of reference can increase both comprehension and retention of information.
What strategies have you found to be most successful when you start to work with a student?
A pleasant demeanor is essential. You need to let the student know that you are on their side and want them to get better and succeed. Also, mapping out a plan to achieve their goal will make them realize that it is possible to get to the point they want to get to.
How would you help a student get excited/engaged with a subject that they are struggling in?
Relating the information back to their frame of reference is key. If they cannot understand the concept in their world and perspective, they will never get it. Once they see how it relates to them and their world, they will become more engaged and excited in the topic.
What techniques would you use to be sure that a student understands the material?
Short quizzes, review, and repetition will let me know that the student understands the material. In addition, if they can apply their knowledge to an outside situation and use it to answer the question, that shows flexibility in thinking and an ability to look at the problem in a different perspective.
How do you build a student's confidence in a subject?
Small steps. Start with the basics and gradually increase the level of difficulty, giving praise where needed and help when warranted.
How do you evaluate a student's needs?
Basic diagnostic testing to see where the student's level is at is key to know what the student needs from the tutoring session. In addition, asking the student what their goals are is also important.
How do you adapt your tutoring to the student's needs?
Depending on what the diagnostic testing says and what they student says helps them, I can use visual cues to help get an important theme across, or use auditory cues to help them understand the material. From working with the student, I get a sense of what works and what does not work based on their level of motivation, interest, and ability on quizzes that I give periodically to assess understanding.
What types of materials do you typically use during a tutoring session?
I typically will use various websites to help me with diagnostic testing and curriculum. In addition, these websites can be used by the student in order to practice and review on their own.