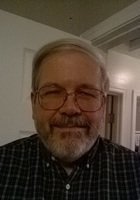 Thomas
Certified Tutor
I went to St. Louis Community College at Meramec and the University of Missouri Columbia where I received a B.A. in History with a minor in Geography. After college, I joined the army and became a second lieutenant in the infantry in Frankfurt, Germany, where I eventually married a German girl and lived for the next 17 years. Over that time, I became fluent in German and learned quite a bit about German culture. I will be the first to admit German is not an easy language --I failed my last semester of German at Columbia! Some years later when living in Germany, I took 7 or 8 German language courses and got straight A's. The key to learning a foreign language is to just do it don't try to be perfect or worry about looking silly. When a child learns his native country's language, it doesn't come out perfect the first time he speaks that comes with practice.

I am a history nerd. I started reading historical biographies when I was 8 years old and haven't stopped. There's nothing new in history if you look hard, you'll find we've made the same mistakes before. To me, history is not just dates it's stories. Behind every historical fact, there is a story. You just have to look for it. They say truth is stranger than fiction, but I say it's better than fiction. I'm not foolish enough to think I can make you love history like I do, but I can make it interesting and enjoyable and not seem like hard work. I also tutor geography, which is interesting because it doesn't stay the same. Countries disappear, they're renamed, and reborn. Geography and history have something in common in that borders don't just exist -- they exist for a reason and that reason is usually a pretty good story.

I've never been a teacher, but always wanted to be one. I've had a variety of work experiences through the years (including 7 years as an R.N.), but my love of history and desire to teach is still there. I look forward to trying to impart to others my love and fascination for history.

Education & Certification
Undergraduate Degree: U of M Columbia - Bachelor of Science, History
Hobbies
Reading, traveling, gardening, and going to the movies. I am married and have 2 dogs and a bird.
Tutoring Subjects
College Geography
College Level American History
College World History
Conversational German
German 1
German 2
German 3
German 4
High School Geography
High School Level American History
High School World History
US History