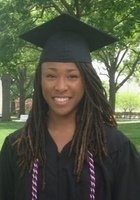 Tyler
Certified Tutor
I am a recent college grad with a Bachelors in both Psychology and French from Rockhurst University. Currently I am preparing for graduate school in which I will be furthering my studies in French. In the future I hope to become an interpreter for businesses that look to form relations in francophone countries!

My tutoring experience is largely peer based. During my formative years and education I would help anyone who asked with various subjects that gave them difficulty. I have thoroughly enjoyed helping fellow students over the years and have been very proud of the improved grades and test scores that followed. Of all the subjects I have tutored, I would have to say that Art and French are my two favorites! I have been drawing and speaking french since I was seven years old, both are natural and incredibly enjoyable to me. It is never work; it is a passion!

Tutoring is an ever changing and fluid thing. Every student learns differently, communicates their needs in a unique way, and interacts with people differently. I learn how to tutor each student from them from the moment we meet and onward through our sessions together. I firmly believe that there is no subject beyond any students reach and that with the proper approach any student can tackle any subject! My tutoring style is based on this philosophy, once I know exactly what the client has a handle of, it propels the trajectory of the sessions to follow.

I am not, however, all seriousness. Outside of academia I enjoy various hobbies, the most important two being Art & Reading. I have just begun a new book called the Decameron, about the black plague and its effects on the 14th century Italian populace. I also avidly enjoying gaming, fantasy role playing titles such as Dungeons and Dragons, Elder Scrolls III/IV/V, and many other genres of gaming. I am also a huge martial arts buff ( I earned my black belt in High School), and enjoy watching good and bad martial arts movies.


Education & Certification
Undergraduate Degree: Rockhurst University - Bachelor in Arts, Psychology/French
Hobbies
Gaming, Reading, Drawing, and Working Out
Tutoring Subjects
12th Grade Writing
AP French Language and Culture
AP Studio Art: 2-D Design
AP Studio Art: Drawing
Art
College English
Conversational French
Drawing
French 1
High School English
High School Writing
Social Sciences
Vocabulary