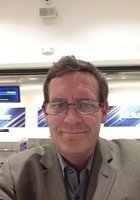 David
Certified Tutor
I am a graduate of the Pennsylvania State University, where I received two bachelor's degrees in Political Science / International Relations and Spanish (Linguistics & Literature). I went on to complete a Master's Degree in Spanish & Latin American Literature from the University of Texas at Austin. I also completed Ph.D. coursework in Spanish while pursuing graduate work at U.T. Austin. Since that time, I have carried out a number of jobs in the Washington, DC region involving Spanish translation, interpretation, writing, and research. Since 2005, I have worked as a Spanish teacher in DC Public Schools, as well as several public charter schools. I also taught social science courses, such as government, history and geography, in addition to English as a Second Language (ESL).
Throughout my time as a graduate student, as well as during my years of full-time Spanish teaching, I have privately tutored students, both at university level, as well as those attending public schools (middle school, high school). I have also taught as an adjuct Spanish professor at Northern Virginia Community College (NOVA), as well as Austin Community College (ACC). I thoroughly enjoy tutoring students one-on-one, or teaching in small groups, and have found particular success in assisting students with writing assignments - whether in Spanish or in English - and in a variety of subjects: English Literature, World Cultures, History, and Government/Political Science.
Beyond teaching and tutoring, I am a "news and political junkie," enjoy reading both fiction and non-fiction, enjoy playing the trumpet and listening to Jazz and Latino Music, and for exercise, enjoy the occasional urban bike ride throughout Washington, DC.


Hobbies
Reading, Politics, Mass Media, Bicicling, Playing Trumpet
Tutoring Subjects
College English
Comparative Literature
Conversational Spanish
High School English
Latin America History
Political Science
SAT Subject Test in Spanish with Listening
SAT Subject Tests Prep
Social Sciences
Spanish 1