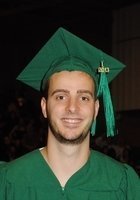 Sylvain
Certified Tutor
I'm originally from Paris, France, and I lived there for 22 years. I moved to Seattle about 5 years ago, and now living in Dallas. I love traveling, and get to know new people. I traveled around Europe, Africa and the U.S. I'm very open minded and enjoy helping people through tutoring.

I graduated of the College of Shoreline near Seattle. I received a degree in Marketing. I learned a lot studying in a new country for me. It was a great experience.

I've been tutoring and teaching students for over 4 years. I use a variety of tools and materials to teach. I tutor all ages and levels. Every student is different, I make sure to focus on the student's needs, and mostly I need the student to interact with me as much as possible and ask all the questions
that need to be answered.

I'm also a basketball player, I love traveling, learning new languages and good food!
What is your teaching philosophy?
My philosophy is that the best way to learn is to understand why you are doing something, especially in learning a language. You don't speak French through translating word for word, but you do it by understanding how to use proper grammar and all the rules in French.
What might you do in a typical first session with a student?
A typical first session is mostly based of pronunciation. If you have a good understanding of the word and how to say it once you hear something, you can identify words better. Accents and combinations of letters forming syllables would be my first lesson.
How can you help a student become an independent learner?
An independent learner is the one who does a little bit every day. The one that gets in the habit of using apps on the phone, or podcasts for example. Anything that would improve learning skills. I would encourage the student by finding fun apps and things to do to get better.
How would you help a student stay motivated?
Motivation is key for a student. We keep it fun by mixing up the lessons, not always doing the same thing, and bringing different approaches. I use a lot of tools to teach-- a wide range of things; nowadays we have a lot of materials we can use to keep it fun.
If a student has difficulty learning a skill or concept, what would you do?
I would then find a different approach for this student. As said before, there are so many different ways to do things. Every student is different; the key is to find what works with what student.
What techniques would you use to be sure that a student understands the material?
The idea is to work with the student. I always show the way, do an example, and make sure the student understands what is asked or what is the material we are working with.
How would you help a student get excited/engaged with a subject that they are struggling in?
Once again, getting people excited about a topic is in how you bring it up. Everybody is different; I'm using all the material I have to keep it interesting.
How do you evaluate a student's needs?
I simply talk to the student, ask specific questions and evaluate their level.
How do you adapt your tutoring to the student's needs?
I have a lot of material, or we an use books, internet, and a white board that I always carry with me. It is a very useful tool to put in writing everything we talk about.
How do you build a student's confidence in a subject?
I simply encourage students to improve. The most important thing in language is not to judge. I understand what they can go through with learning a language. I also know what to teach a student; adapting your teaching style to not have your student feeling defeated.
What types of materials do you typically use during a tutoring session?
I use multiple books, a white board with eraser, apps, internet, podcasts, articles or little quizzes.
How do you help students who are struggling with reading comprehension?
In that case, the idea is to focus on explaining how the language is set up. Explaining why a sentence is built the way it is. Understanding the structure is key to understand reading.
What strategies have you found to be most successful when you start to work with a student?
My strategies are to simply evaluate the student, to make sure that what you are doing is what the student needs. Talking and questioning your student to make sure you will answer their needs.