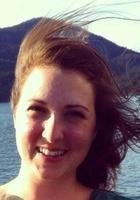 Marianna
Certified Tutor
I earned my Bachelor's degree in Art History at the University of Texas at Austin in 2008, followed by a Master's in Visual Culture from Illinois State University in 2008.

Seeking a more global perspective as well as teaching experience, I then taught ESL in Seoul, South Korea from 2013 to 2014. In Seoul, I taught and tutored students of all ages and loved helping them grow and learn at their own pace. When I returned to the United States to live in beautiful Seattle, I knew that I wanted to continue to pursue my teaching career as well as my scholarly research.

Through my experiences as a Teaching Assistant, ESL Teacher, and ESL Tutor, I have learned to be flexible, encouraging, and supportive. I think those qualities foster the most positive learning environment. I am eager to work with students of all ages and levels to help improve their reading, writing, or ESL skills. I am also happy to provide my tutoring services for students that are specifically seeking college level writing help, especially for art history courses.
Hobbies
Reading, writing, running, knitting, playing music, and spending time outside with my dog.
Tutoring Subjects
Art History
College English
High School English