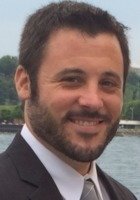 Stephen
Certified Tutor
I am a graduate of Colby College in Waterville Maine, where I received my BA in Biology. Since then I have taught high school Biology and Chemistry in a public high school in a suburb of Boston. I received my Masters of Education from Fitchburg State University, as well as an advanced degree in Educational Leadership and Management. Along with being a teacher, I was a football and baseball coach in Massachusetts for the past 9 years. I believe that teaching academic subjects and sports go hand in hand, and I am equally passionate about teaching and coaching.

My favorite part of being a teacher is the one on one interactions with students. Whether it is on the field or in the classroom, I love the feeling when students have that "Ah ha!" moment, and finally get a difficult concept. I have experience with teaching all different types of learners, and students with various learning disabilities. I love to differentiate instruction in order to fit each student's unique learning style.

I love tutoring science, particularly biology and chemistry because these subjects require a unique way of thinking. Instead of committing facts to memory, I challenge students to learn patterns, to use critical thinking skills and to question their reasoning in order to come up with a plan to solve scientific problems. I believe that scientific thinking is a skill that can help students in all facets of their life.

When I am not in the classroom, I enjoy being active. My hobbies include going for walks with my puppy, spending time outside, and playing and watching sports. I played football in college, and I still play softball and flag football.
Hobbies
Football, Baseball, Exercise, Traveling