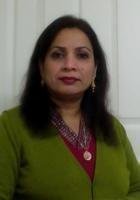 Tallat
Certified Tutor
I am currently pursuing a Master of Arts in Liberal Studies (MA/LS) with focus on Business and Marketing at Stony Brook University, NY, USA. Since 2008, I have been working as a Teaching Assistant and Substitute Teacher in private and public schools in NY USA.
I have served for three years as the Head of the Business & Marketing Department in Bahria College, Islamabad, Pakistan. During my time as Head, I worked directly under the Principal to develop new curricula for A' Levels and O' Levels, interviewing new candidates, organizing college-wide events, organizing tours for new students and managing all associated paperwork and correspondence.
Simultaneously, I had the privilege of teaching economics and business studies to the O' & A' Levels (the British System equivalent to Grade 9-12 & first two years of Undergraduate Studies).
In that capacity, I strongly believe in a philosophy of lifelong learning to meet the challenges of global competence. Keeping this vision in mind, I have been able to remain sensitive to the needs of students for exploring comprehensive multi-disciplinary studies, preparation for work, academic and social competence and a sense of citizenship that incorporates the cultures of all students into instruction.
These are some of the courses I have completed towards accomplishing my Master of Arts in Liberal Studies (MA/LS) that have widened my perspective and vision towards HR and its relation with the Business needs and Management: Ethics in Management, Organizational Change Management, Foundations of Human Resource Management, Survey of Labor/Employment Relations, HR Management Workshop, and The Uses and Abuses of Technology.
Education & Certification
Graduate Degree: University of Punjab - Master in Public Health Administration, Finance
Graduate Degree: Stony Brook University - Masters, Business and Marketing
Hobbies
Economics & business journals, tennis, chess & bridge.
Tutoring Subjects
Business
College Economics
High School Business
High School Economics
IB Business & Management
IB Business & Management HL
IB Business & Management SL
IB Economics
IB Economics HL
IB Economics SL
Macroeconomics
What is your teaching philosophy?
Learning and connecting the concepts with the real world scenarios.
What might you do in a typical first session with a student?
Introduction. Breaking down the syllabus. Spread over available weeks in hand. Simplify the concept. Connect with examples.
How can you help a student become an independent learner?
Assignment Research Questionnaire to be completed by the student. Evaluate his work!
How would you help a student stay motivated?
Breaks. Share interesting experiences.
If a student has difficulty learning a skill or concept, what would you do?
Make it easier. Connect other interdisciplinary concepts so as make it more understandable!
How do you help students who are struggling with reading comprehension?
By teaching how to skim over key words.
What strategies have you found to be most successful when you start to work with a student?
A whole lot ! Depending upon the learning level and aptitude of the student.