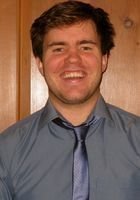 Colin
Certified Tutor
I am a graduate from Reed College in Portland, OR with a B.A. in Biology. I've recently spent two years as a teacher in at a public school in New York City and have to left to explore research opportunities in the the city. While working in research, I do hope to come back to teaching at some point and am currently looking for tutoring opportunities within the 5 boroughs. I have extensive experience teaching and tutoring middle school Science and Math, from grades 4 to 8. I can also tutor in high school level Biology and Chemistry. In my spare time, I enjoy hiking, playing sports, and cards.
Education & Certification
Undergraduate Degree: Reed College - Bachelor in Arts, Biology, General
Hobbies
Hiking, Rugby, Cards, Music
Tutoring Subjects
College Biology
College English
Elementary School Math
High School Biology
High School English
What is your teaching philosophy?
I first like to take a look at the student's work in school and see where problem areas for the student lie. From there, I try to notice strategies they use and what might be causing a problem. Then, I'll have a conversation with the student to understand why they're using that strategy and help them to refine it.