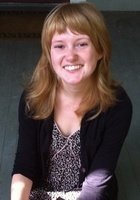 Kelly
Certified Tutor
"The whole art of teaching is only the art of awakening the natural curiosity of young minds for the purpose of satisfying it afterwards," wrote Anatole France. This statement is an excellent introduction to my teaching philosophy. I believe that the fundamental responsibility and challenge in teaching is to transmit one's own enthusiasm and curiosity to students. In my experience, once students are curious and engaged, teaching is much more effective and enjoyable. I have found this to be successful in lecture, laboratory, and individual tutoring settings.

I am currently an adjunct lecturer in the physics department at the College of Staten Island, and I am working on my Ph.D. in theoretical/mathematical physics from Kent State University (Kent, OH). I have been tutoring and assisting students in introductory-level physics courses since 2004, and I greatly enjoy the teaching aspect of graduate school. As a teaching assistant in both laboratory and lecture settings over the course of six years, my average overall rating from undergraduate evaluations is 4.37 (out of 5). In addition to teaching college students, I have mentored high school students working on science fair projects in the Washington, DC, area. I am a member of the American Physical Society and the New York Academy of Sciences.
My primary tutoring interests are physics, mathematics, and SAT prep, and in the rare moments when I'm not teaching or working on my dissertation, I enjoy practicing yoga and playing music.
Education & Certification
Undergraduate Degree: American University - Bachelor of Science, Physics & Audio Technology
Graduate Degree: Kent State University - PHD, Physics
Test Scores
SAT Composite (1600 scale): 1430
SAT Math: 710
SAT Verbal: 720
Tutoring Subjects
College Physics
Elementary School Math
High School Physics