Quinn: Lagos Biochemistry tutor
Certified Biochemistry Tutor in Lagos
...wide variety of subjects. I am a very active individual, and I am highly curious about everything. I always want to try new things, and I am driven by a visceral love of adventure. Despite these innate qualities, I am also very driven to help other people, and tutoring is a simple, yet powerful and...
Alejandro: Lagos Biochemistry tutor
Certified Biochemistry Tutor in Lagos
...to become a physician. I graduated with a degree in Biology and minors in Chemistry and Spanish. Although I focus mainly on science, I have a passion for the Spanish language and its history, as I was born in Mexico. I am currently working as a High School College counselor and helping first-generation and minority...
Alina: Lagos Biochemistry tutor
Certified Biochemistry Tutor in Lagos
...college academic support center as a math and science tutor and would have been hired on a professional basis, had it not been for some age-related hiring restrictions. (They could only hire people 18+, and I was 17 at the time.) Through the college tutoring center I received professional training on the best methods to...
Kristen: Lagos Biochemistry tutor
Certified Biochemistry Tutor in Lagos
...graduated from Columbia University with a Bachelor of Arts in Biochemistry. I love to teach, mostly because of the impact of great teachers throughout my academic career. I think learning can be really fun, if teachers think outside the box and really challenge themselves to find novel ways of conveying concepts to students. Tried and...
Tiani: Lagos Biochemistry tutor
Certified Biochemistry Tutor in Lagos
...I ask a few questions to engage the student's critical thinking skills so that they can solve the problems independently. I have performed well on the new MCAT and have been accepted to Florida State University College of Medicine and University of Cincinnati Medical School. I will begin medical school Fall of 2016. This is...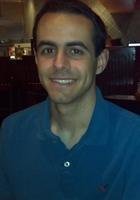 Matthew: Lagos Biochemistry tutor
Certified Biochemistry Tutor in Lagos
...in Microbiology. While at USF, I spent two years as a part of the Chemistry Society's Tutoring Center, where I helped my fellow classmates with their classes and coursework, primarily with general and organic chemistry. During my time at the Tutoring Center, I found that I really enjoyed helping students understand their studies. I have...
Colton: Lagos Biochemistry tutor
Certified Biochemistry Tutor in Lagos
...in Aurora, Colorado. I graduated from the University of Virginia with a BS in Biomedical Engineering. Through the course of my undergraduate career, I served as a teaching assistant for Cell & Molecular Biology and both undergraduate and graduate versions of Introduction to MATLAB. I also have experience volunteering as a tutor from elementary to...
Josef: Lagos Biochemistry tutor
Certified Biochemistry Tutor in Lagos
...test and teaching the subjects. With an infectious enthusiasm for science, I help students synthesize topics across different disciplines until it all makes sense. Building from a strong foundation, each of my students can then develop effective academic strategies and succeed. I am a recent Bachelor of Science from Cornell University, where my studies revolved...
Gabriel: Lagos Biochemistry tutor
Certified Biochemistry Tutor in Lagos
...not want to learn and put in the work. However, I truly believe any student can not just succeed, but excel, if they work hard and have the right support system. Aside from tutoring, I love to cook and play Ultimate Frisbee. I also work as an emergency room medical scribe, and I am extremely...
Private Online Biochemistry Tutoring in Lagos
Receive personally tailored Biochemistry lessons from exceptional tutors in a one-on-one setting. We help you connect with online tutoring that offers flexible scheduling.
You can count on Varsity Tutors to help you locate quality biochemistry tutoring in Lagos. Whether you are studying the basics of water and equilibrium or focused more specifically on ion-exchange chromatography, you can connect with a Lagos biochemistry tutor who is skilled in the areas you want to study and prepared to help you reach for your academic goals.
When you're studying biochemistry at a school like the University of Lagos or another local institution, it can be helpful to work with a biochemistry tutor in Lagos who can help supplement your in-class learning. During sessions, your private educator can go over concepts you're studying in class like carbohydrate metabolism and enzyme inhibition. If you have any questions about the differences between hydrophilic, hydrophobic, and amphipathic molecules, your biochemistry coach can provide immediate and in-depth explanations. Since you're meeting with your instructor in a one-on-one setting, you are the sole focus of instruction. Nigeria biochemistry tutors can tailor all aspects of your lessons to your academic needs.
For instance, during Lagos biochemistry tutoring sessions, your personal educator can pinpoint and cater to your personal style of learning. If you are a visual learner who is studying gel electrophoresis, your academic mentor can use an infographic or another example to help you understand this method. On the other hand, if you are an auditory learner, your private biochemistry instructor can use podcasts to get you up to speed with the classifications of enzymes and thermal properties of water.
The personalized nature of this form of instruction allows your biochemistry tutor in Lagos to work with you at your own comfortable pace. For instance, if you are having a difficult time understanding the role of cofactors in enzyme catalysis, your biochemistry coach can spend as much time going over the role with you as needed. If you feel good about your comprehension of genetic control in enzyme regulation, your personal educator can skip it altogether and focus on topics like covalent modification and allosteric regulation.
Sometimes, it can be challenging to create your own comprehensive lesson plan for your biochemistry studies. Fortunately, we can help you find a Lagos biochemistry tutor who can tailor a lesson plan that aligns with your specific academic needs whether they are to get better acquainted with the ionization of water or the effects of the temperature of pH on enzyme-catalyzed reactions. Since your academic mentor has time to get to know you, they can focus on the areas you need to study most while taking into account your specific study habits, class curriculum, academic aspirations, and even your interests. The lesson plan can be modified as you go. So if you study and confirm your grasp of Michaelis-Menten kinetics, your plan can be altered to focus on Lineweaver-Burk plots.
When you take part in Lagos biochemistry tutoring sessions, you meet with your private instructor online via our Live Learning Platform. This interactive virtual classroom is filled with features designed to enhance your academic experience. You interact with your biochemistry coach via the video chat feature, which can give you the chance to get better acquainted with amino acids and proteins through real-time discussions.
The platform's virtual whiteboard allows Nigeria biochemistry tutors to give you a visual understanding of gel filtration chromatography, while the shared document educator allows educators to work with you to showcase your knowledge of detailed mechanisms of enzyme catalysis. If you're preparing for a test that covers intermolecular forces, you can revisit lectures from your educator since the platform automatically records each session.
If you're interested in biochemistry tutoring in Lagos, reach out to Varsity Tutors online or by phone. Our educational consultants can help you find an educator who is able to align with your scheduling and academic needs. Whether you want to strengthen your knowledge of osmotic pressure or immobilized metal affinity chromatography, a biochemistry tutor in Lagos can help. Contact us today to learn more!
Your Personalized Tutoring Program and Instructor
Identify Needs
Our knowledgeable directors help you choose your tutor with your learning profile and personality in mind.
Customize Learning
Your tutor can customize your lessons and present concepts in engaging easy-to-understand-ways.
Increased Results
You can learn more efficiently and effectively because the teaching style is tailored to you.
Online Convenience
With the flexibility of online tutoring, your tutor can be arranged to meet at a time that suits you.
Top International Cities for Biochemistry Tutoring