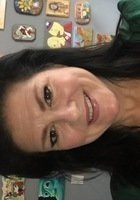 Jessica
Certified Tutor
I am an avid artist, author and studying for my Art Therapy Certification. I love teaching, to see students so proud of their work that exceeds their expectations! I am patient, kind and supportive of my students. Covid messed with everything that is for sure and the arts are usually the first programs to cut. It is sooo important to have a break from the stress and create! You don't needs words to express yourself through the arts. Your own personal work can influence those who see it in ways the artists doesn't always expect or intend. That is the beauty of art!
Education & Certification
Undergraduate Degree: Centenary College - Bachelor in Arts, Fine and Studio Arts Management
Hobbies
ART! Acrylic, watercolor, Anime Art, drawing, pen and ink, mixed media Art Therapy, photography and writing. I enjoy listening to podcasts, a history dork, teaching cooking classes and Teaching Art! I have a method I created called Dip and Twist where I can teach just about anyone how to paint beautiful works of art they can be proud of! I do yoga 4 times and week and enjoy taking Nia Classes.
Tutoring Subjects
Art
Drawing
Learning Differences
Other
Study Skills
Study Skills and Organization
Visual Arts