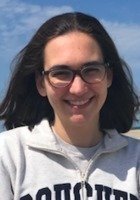 Leah
Certified Tutor
I am a senior at Goucher College studying Elementary Education, completing classes specifically on teaching the topics of science, math, social studies, reading and writing. I have worked in preschool as an assistant teacher and completed student teaching both virtually and in person in a 4th grade class where I taught five days a week covering topics including health, social studies, math, science, reading and writing. My previous experience has also included working with students with learning disabilities, ADHD and autism. My favorite subjects to teach are reading and math, as I love working with students to build on these foundational skills that they are able to apply in different areas of their life. I also tutor science and social studies, and my favorite part of tutoring these subjects is watching students connect to these topics and become interested in the in the material. As an educator, I am passionate about the importance of teaching in a way that helps students become engaged in what they are learning and working with students to build skills they can apply in a wide variety of settings. I work to meet students where they are at and build on their strengths as an individual to help them succeed.
Education & Certification
Undergraduate Degree: Goucher College - Bachelor of Education, Elementary School Teaching
Hobbies
In my free time I love working with and spending time with animals, hiking, reading, and playing music.