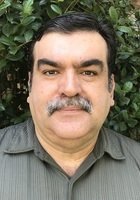 Isai
Certified Tutor
I am a graduate of The University of Houston - Downtown. I received my Bachelor of Arts in Interdisciplinary Studies. I also hold a Master's in Educational Administration from Sam Houston State University. I have taught in both the public and private sectors. I have experience teaching from elementary through college. While I tutor a broad range of subjects, I am most passionate about Math. I most appreciate helping struggling students master difficult concepts. I am a firm proponent of education; I grew up in poverty and I believe that education is the biggest equalizer when it comes to economic inequities. I am the author of a children's book, I am a maker, a creative thinker, and an artist.
I am proud to boast that I have a successful record with students learning math, especially for the GED!
Hobbies
i am an artist, a maker, a published author, and a creative thinker.
Tutoring Subjects
Art
College English
Elementary School English
Elementary School Reading
Expository Writing
Fine Arts
GED Math
GED Reasoning Through Language Arts
GED Social Studies
High School English
High School Writing
ISEE-Middle Level Verbal Reasoning
Middle School English
Middle School Reading
Middle School Reading Comprehension
Middle School Social Studies
Middle School Writing
Other
Visual Arts