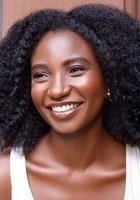 Habi
Certified Tutor
I am an avid polyglot looking to share my love for languages by tutoring wonderful students. Languages are my passion and I speak 8 of them. I am a native French speaker and I have been tutoring for the past 5 years to private students and corporate clients. I grew up all over the world and lived in France, so you will learn an authentic French accent.

I am a very patient teacher and I strive to understand the needs of my students. I can build a custom curriculum, if necessary, or I can help in completing French homework. I have a unique way of combining discipline with fun. You can expect a high energy class where I support my students to achieve their goals and guide them toward success.

I am also a certified medical interpreter in French, so my knowledge of the French language is deep and extensive, being able to each all levels. Although I do not tutor sciences, I also have a Bachelor's in chemical engineering and an MBA in supply chain management. I am professional, self-determined and always focused on delivering the customer service possible. Additionally, I am reliable and a great communicator.

I look forward to meeting you!
Education & Certification
Undergraduate Degree: Howard University - Bachelor of Science, Chemical Engineering
Graduate Degree: Howard University - Masters in Business Administration, Business Administration and Management
Hobbies
I love languages and arts. I have a passion for languages and I speak 8. I am fluent in English, French, German, Bambara (Mali), intermediate Spanish, some Arabic and Chinese. I am currently learning Japanese! I have great interest in philosophy, music, theatre and watching all genres of movies.