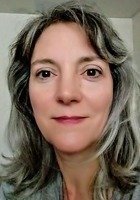 Merrie Lynn
Certified Tutor
A teacher should teach because they love their subject and their students! I believe all students are capable of learning and owning their own education. Teachers and paraprofessionals join with parents to assist them in that that process.

When I'm not tutoring, I'm homeschooling my 3 daughters, or doing needlecraft, or playing with my grandchildren!
Education & Certification
Undergraduate Degree: Liberty University - Bachelor of Science, Multi-/Interdisciplinary Studies, General
Hobbies
I enjoy teaching what I love: English language arts, computer science, keyboard and music theory, and needlecraft.
Tutoring Subjects
Basic Computer Literacy
College English
Elementary Reading and Phonics Class
Elementary School English
Elementary School Reading
Elementary School Writing
High School English
High School Writing
Late Elementary Reading Comprehension
Middle School English
Middle School Reading
Middle School Reading Comprehension
Middle School Writing
Music
Piano
Pre-Reading Super Skills Class
Reading Comprehension Class
Reading Fundamentals: Phonics and Decoding
Technology and Coding