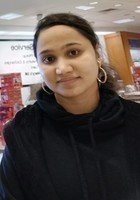 Shreya
Certified Tutor
A passionate and innovative young professional with a passion for continuous learning and professional development.
Graduate and Post Graduate in Computer Science.
Succeeded in helping students raise their grades.
I can teach Computer Science Subjects like Python, Data Structure, Machine Learning with Tensorflow framework, Mathematics, Statistics, Probability, SQL, Tableau, Microsoft Office, Data Science and Web Technologies like CSS and HTML.
Education & Certification
Undergraduate Degree: Devi Ahilya University - Bachelor of Science, Computer Science
Graduate Degree: Rajiv Gandhi Technical University - Master of Science, Computer Science
Hobbies
Dancing, Watching movies, Exploring new places, traveling, Cooking, Shopping
Tutoring Subjects
Abstract Algebra
Cooking
CSS
Data Science
Graph Theory and Combinatorics
Hindi
HTML
Linear Programming
Machine Learning
Microsoft Excel
Microsoft Office
Other
PC Basic Computer Skills
Productivity
Programming Languages
Real Analysis
Relational Databases
SPSS Statistic Software
SQL
Tableau
Technology and Coding