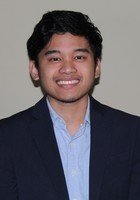 Sam
Certified Tutor
Hey! I am a graduate of The University of Georgia with a BS degree in Civil Engineering. If you're in a rush, here's my tldr: I love math and science, and I will absolutely collaborate with you to find the best way for you to learn. I also love dogs.

If you're not in a rush, let me share more about myself. I love learning and, even more so, sharing what I've learned. However, I know that people learn differently. Some are quick, some take more time. Some like visual aid, while others prefer that it's explained like a Lovecraftian novel. Getting a concept to "click" can be more complicated than a simple definition. However, I believe it is well worth the time and effort. In any case, I am willing to modify my teaching approach to find the most optimal way for the information to connect with you.

Outside of school, one of my biggest hobbies is dancing. I used to be a part of a ballroom dance group and a Bollywood/hip hop dance group. I also have a dog named LG, no relation to the company.
Education & Certification
Undergraduate Degree: University of Georgia - Bachelor of Science, Civil Engineering
Hobbies
Dancing, longboarding, playing the guitar and ukulele, volunteering