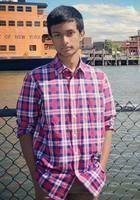 Fayad
Certified Tutor
A tutor passionate about math and understanding the material with depth. My goal is to make sure you have a thorough and deep understanding of what you are learning.
Test Scores
SAT Composite (1600 scale): 1500
SAT Math: 800
SAT Verbal: 700
SAT Mathematics Level 2: 800
Hobbies
I like tutoring students, playing sports, and learning about new people.