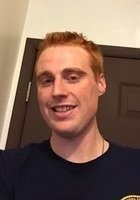 Jared
Certified Tutor
Do you have hard time with a certain subject? Do you know which methods work for your specific learning style? As someone with learning challenges as a child, I know how important it is to develop personal strategies and heuristics that will enable you to learn the most efficiently. I think my personal difficulties with learning is what give me the motivation to help others. Sometimes, somebody's full potential is not showing at their highest potential. I would love to help you find your full potential. I am fully capable at teaching any math or sciences at the high school level and many at the college level ( i.e biological sciences, physiology, anatomy, physical and organic chemistry), etc.... I have experience tutoring both at the high school and college level. Personally, I am in the middle of applying to medical school and recently finished taking the MCAT. I would absolutely love helping anybody in this area as well. As referenced above, I am more than confident that I will be able to help you get to your goal score. Its all about the learning style and strategy that works for YOU. I look forward to working with you very shortly to help you achieve the goal that YOU have.
Education & Certification
Undergraduate Degree: West Virginia University - Bachelor of Science, Microbiology and Immunology
Hobbies
Pretty much anything sports. I love both watching and playing sports. Particularly, I love basketball and golf. In general I also very much in enjoy playing video games in my spare time. I find that it is a great way to distract you from everyday worries and struggles.