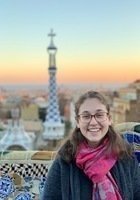 Netta
Certified Tutor
I am a graduate of Pomona College, where I received my B.A. in Linguistics. I love languages and grammar, and I enjoy helping others figure out the puzzles of how English and other languages work. I have worked with students of all ages as a tutor at Upward Bound and local community organizations. I have also worked as an American Literature teacher at Breakthrough Twin Cities, where my favorite part of the job was seeing my students excited about what they were reading. I tutor a wide range of subjects, but I especially enjoy tutoring language and reading. I believe that with the right support, students can improve and succeed in any area. In my free time, I like to bake, ride my bike, and play the ukulele.
Education & Certification
Undergraduate Degree: Pomona College - Bachelor in Arts, Linguistics
Test Scores
SAT Math: 710
SAT Verbal: 800
SAT Writing: 740
Hobbies
I enjoy baking, bike-riding, and walking with my dogs. I also recently started teaching myself how to play the ukulele!
Tutoring Subjects
Arabic
High School English
High School Writing
Spanish 1