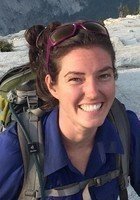 Shenandoah
Certified Tutor
As a student, I disliked school, and I became an educator to help improve students' learning experiences.
Throughout high school and college, I struggled to find my place within academic systems. After graduating from the College of William and Mary, I pursued research science opportunities in Antarctica and on tall ships in the South Pacific. These experiences came with an element of public outreach and science communication, which in turn led me into the world of experiential education. I spent 5 years teaching students out of doors - from marine science for 4th-12th graders in California, to 7th grade environmental science in Washington, to Pre-K -8th grade ecology in Maine. These opportunities to work with students across every grade level helped me decide that as an educator, my job is to help students realize that they "can." And to this day, I strive to empower my students through making content accessible and relatable, while bringing a hefty dose of enthusiasm to the table.
Education & Certification
Undergraduate Degree: The College of William and Mary - Bachelor of Science, Geology
Graduate Degree: University of Virginia-Main Campus - Master of Arts Teaching, Science Teacher Education
Test Scores
GRE Verbal Reasoning: 162
GRE Quantitative Reasoning: 158
GRE: 320
Hobbies
I am an avid outdoors person who soaks up any opportunity nature throws. Currently, I live near the beach, where I am able to hop in the water for a swim or a snorkel after work. A lifelong runner, I am currently rehabilitating an injury, but enjoy daily walks while chatting with family or listening to audio books!
Tutoring Subjects
College Biology
Ecology
High School Biology
Life Sciences
Middle School Science
PRAXIS
PRAXIS Science
Professional Certifications