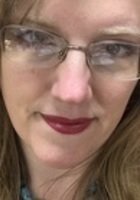 Kimberly
Certified Tutor
In considering the credentials of a tutor, intelligence and knowledge of content material is foremost. As a High School and College Scholar, I participated in many honors courses. I graduated Magna Cum Laude with a Bachelor's of Arts in Anthropology. I've also earned a 4.0 on all my college work done post graduation as needed for my continuing education and to maintain my teaching certificate.

However, knowledge has to be paired with an ability to teach. I am a natural story teller and "explain-er", and I excel in making difficult concepts easy to understand. I love all aspects of science and really enjoy helping my students develop a love for science as well.

I have been given the honor and responsibility of teaching science students for over 19 years. In that capacity I was charged with ensuring an engaging and challenging study of subjects ranging from Life Sciences- such as biology, ecology, anatomy, and heredity; to Physical Sciences- covering electricity, force, motion and machines; and Earth Sciences subjects of earthquakes, volcanoes, weather and astronomy.

I want my students to excel and will provide frequent updates and progress reports.I look forward to helping you reach and then surpass your learning goals and objectives.
Hobbies
I paint landscapes in acrylic for commission, and I create home-made knit & crochet items KStarrDesign.com
Tutoring Subjects
College Biology
Ecology
Elementary School Science
Middle School Science