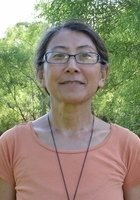 Ely
Certified Tutor
I was born in Brazil, lived in Japan and now I live in North Carolina. I have worked with these three languages, but I am currently mainly focusing on ESL and Brazilian Portuguese. I also teach Japanese for beginners and intermediate students.

My almost 20 years of experience in language teaching, interpreting, and translation made me believe that language learning is effective when it is aligned with your emotions.

I use my talents and skills not only to provide the best technical tools, but also to help you to identify your language learning style.

I am also a printmaker (visual artist) and I have been showing my artworks in many venues in the Triangle Area, NC.
Education & Certification
Undergraduate Degree: School of Communication and Art - University of Sao Paulo - Bachelor in Arts, Art Teacher Education
Graduate Degree: Faculty of Philosophy Languages Literature and Human Science - University of Sao Paulo - Certificate, Language Interpretation and Translation
Hobbies
art, yoga, healthy lifestyle, reading, movies, music
Tutoring Subjects
Art
Portuguese
Printmaking